I'm cleaning house this morning. Had a wonderful weekend with my sons. We laughed and talked and watched movies and ate and detailed out cars and just had a great time. It was like old times, including the wrestling mania with me standing around wringing my hands saying "Stop it! Something's going to get broke! Someone's going to get hurt!"
The house is showing the weekend's strain big time. And so the windex and Pinesol and all are making their appearance. Housecleaning is usually when I plan my creative projects. I think through what needs to be finished and what I want to start next. And that's been my mental fodder today. The 100 Skirts Project is coming along fine. My UFO list is pretty manageable. I'm thinking that after I wrap up just a few loose ends, I could start A Big Project. And I think it's going to be the art coat mentioned
here
. Marji of
Fiberarts Afloat
is considering a coat sew along. If she decides to go ahead with that, I think I'll join in. I've been wanting to enter something really spectacular in our State Fair. Perhaps this will be it.
So my Upcoming Projects List looks like this...
Immediate (this week!)
Alter a friend's bridesmaid dress
Put the last border on my
Lavender Quilt top
Sandwich and Baste a flannel quilt top (A year old UFO!)
Short Term (through the summer)
Art Coat
Finish Lavender Quilt
Finish Flannel Quilt Top
Karess' Harvest Dress
Long Term (by next summer)
Finish UFO Crazy Quilt (tons of hand-stitching, beading, etc.)
Perhaps a capsule wardrobe
I will do a post soon with sketch, fabric samples, work schedule, etc. of my art coat. In the meantime, here are some inspiration pics...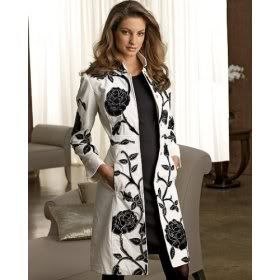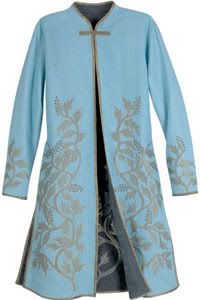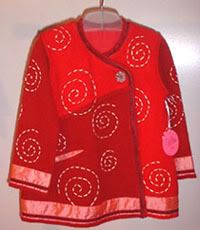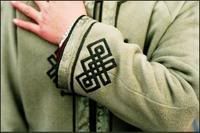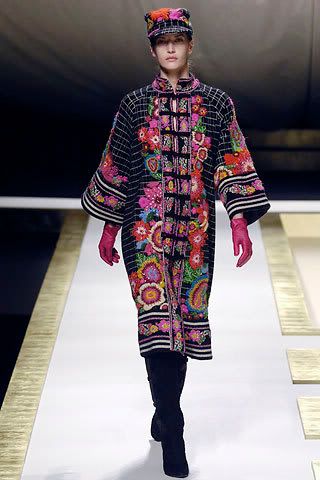 Charity