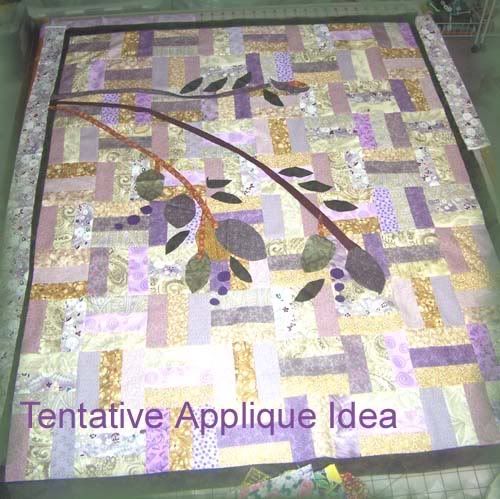 I finished the quilt top on the lavender quilt except for the second border. I didn't have any purple left after cutting the strips for the blocks. Pretty much cleaned out all my purple quilting stash. That's okay. Afterall, this IS the year of trying to make a healthy dent in my 800 yard stash. So...I will need to go to the fabric store today to find a purple print for a second 5 inch border. The quilt is starting to take on a distinct japanese flavor to me for some reason. I think I will look for an oriental print if possible.
I have done some rough cutting and arranging of applique shapes. These are simply to get an idea and not the final product. The leaves need to be narrowed and more defined in shape. I think there also needs to be a floral blossom of some sort, but haven't yet found a shape that looks oriental to me. I may try a fuschia-ish shaped flower. I will also add more leaves and berries. It looks a little bare to me. After I get the final design perfected, I will cut the shapes. It would be quickest to do fuse and satin stitch for the edges, but I think the design really calls for needle-turn. It will be much more time-consuming, but the end result will be more in line with the spirit of the design.
The next decision after that will be how to quilt it. Since it is going oriental on me, I was thinking about doing sashiko type quilting. Something along these lines.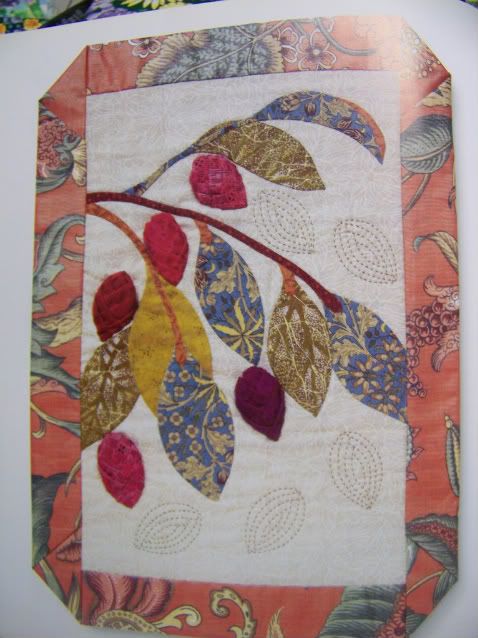 UPDATE - Found the perfect border today! I wanted something with an oriental flair to it, but everything was too busy and too obvious. Lots of geishas, cranes, fans and such. I was about ready to give up and buy a very blah tan tone-on-tone floral when I thought to check the clearance wall. It's usually junk, but there was a very nice mocha and mauve print with a definite japanese tone to it. And the texture looks very much like traditional oriental textiles. It will be a perfect background for sashiko quilting! And best of all it was on clearance for $3. Off to wash it and then attach it!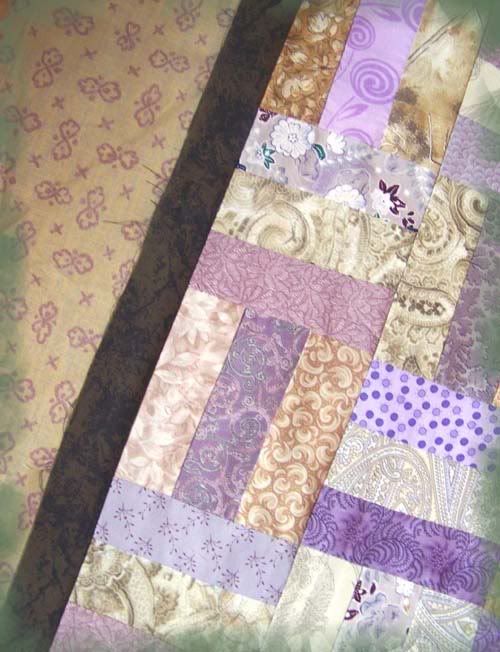 Charity