I have had 15 skirts arrive for
The Hundred Skirts Project
this week. Twelve from Betty (TX) and three from Noreen and daughter (NY). The ladies did an amazing job. They are all so beautiful and I am just thrilled to share them with you. The photos simply do not do them justice. They are even more darling in person. If it was like Christmas for ME to open them, can you imagine how much fun it will be for the girls? I hope this thought blesses those of you who are so generously giving of your time and resources.
This is Noreen's "Hoo's Got Pockets?" Her daughter created the tags to go with the skirts. Aren't they adorable.
Noreen's "Color Garden". The skirt has a flounce with bias band and 3 buttons tied on with embroidery floss. The corduroy in this skirt feels like velvet.

Noreen's "Periwinkle Blues." The skirt has a flounce with eyelet trim and is made from the softest pique.

Betty is from Texas. She was an early arriver to The Hundred Skirts Project and signed up to do TWELVE skirts. I was awed! And each skirt is beautiful. They are made from brightly patterned, high quality cottons in tropical and themed prints that are perfect for a warm weather climate. I know the girls will love their skirts and have a lot of fun playing "eye spy" with some of these prints! And can you imagine doing that many double ruffles on that many skirts? The woman deserves a halo!
These are two of Betty's 12 skirt set. The lobster print is "Lori Lou" and the chicken print is "Josie Mae." Betty named her skirts after female family members.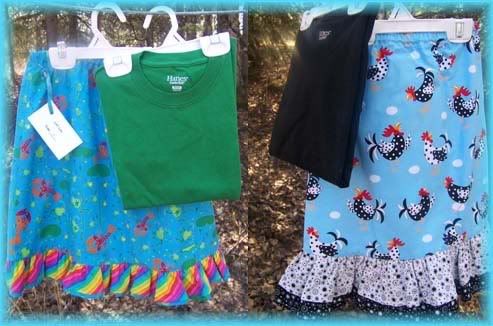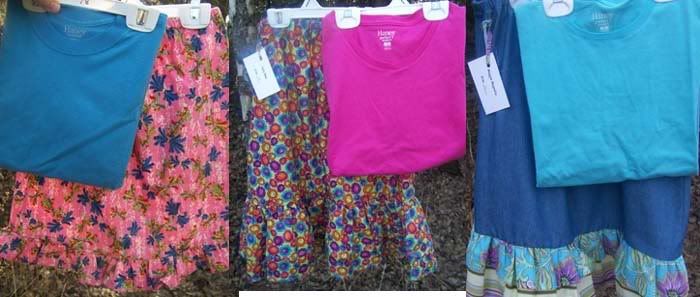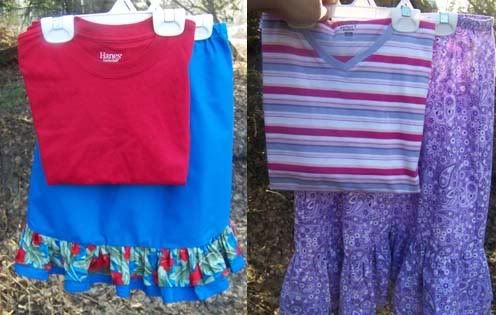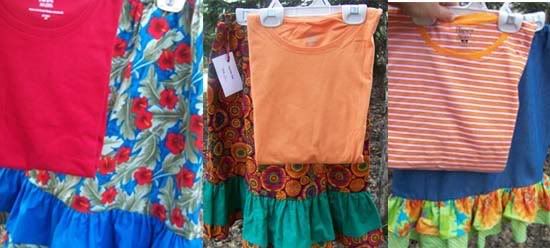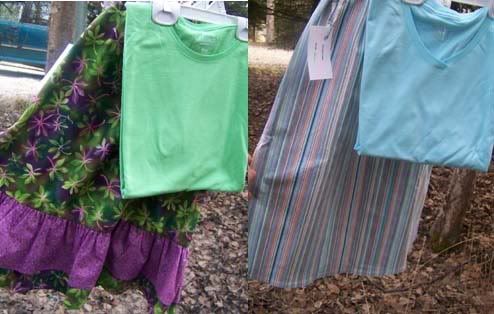 A big round of applause to Noreen and Betty for a job well done! You both did a marvelous job!