One resorts to hand-sewing...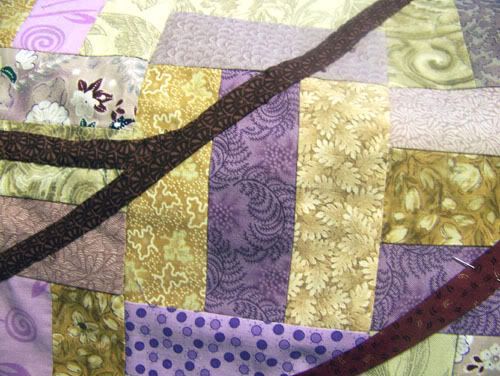 I decided to do some needle-turn applique on my
lavender quilt
since my
Pfaff
has gone under the knife and won't be out of recovery for a week or so. I usually do my applique the quick-and-easy way (fuse, then machine satin or blanket stitch). But I hate
my back-up machine
and since DH picked up
SPACE, a wonderful sci-fi TV series (NOT!)
, I thought I would redeem the time with a little old-fashioned hand-sewing while wittily mocking said series. Hopefully I can finish the applique on this quilt top before my machine returns. Sadly, the free-motion foot I needed (mine had broke from constant hard use) to finish this quilt was not in stock. It had to be special ordered and who knows how long that will take. I have another quilt waiting to be
stippled
as well. So things are backing up in the quilt department. Guess I'll get good at this hand-sewing thing.
For those interested in Needle-turn Applique, I suggest these tutorials.
Easy Needle Turn Applique 101
Learning to Quilt, Lesson 4, Applique
How to Needle Turn with Freezer Paper
Applique and Hand Sewing Lessons
Applique Basics
Quilt Applique Techniques and Tips
Quiltmaking Fundamentals
Heirloom Quilts, Lesson 3, Hand Applique