Sue left me more comments in the
Fabric Mecca Beckons
post than I could deal with in a comments box. I had to bring it out here in the light of the day so I could handle all her questions. :) Plus...Sue came up with a way for me to rationalize any new fabric purchases. For that she deserves her own post.
Sue asked....
How do you inventory your fabrics?
I know some people keep really intricate inventories. I like to have my fabrics out where I can see them. So I don't feel a need to inventory samples into a notebook or anything. I sort my fabrics into open white plastic baskets by color only. I don't separate out knits from velvets from silks. When I design, I do so almost entirely based on color inspiration. The exception is extra bulky fabrics that would take up an entire basket themselves. They go in larger Rubbermaid containers, but there are few enough that I know what's in the bins. The other exception are fabrics on the bolt. They are stacked on the shelf where I can see them. And then quilting fabrics are the final exception. They are sorted by color into drawer units. I can see everything at a glance on my shelves.
Here...it's easier to show you.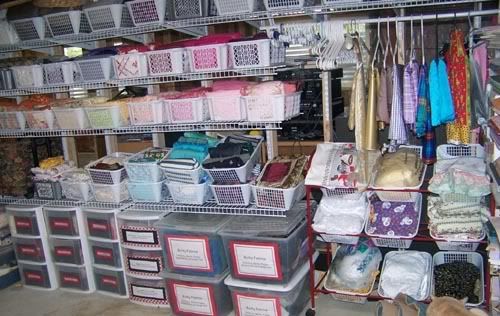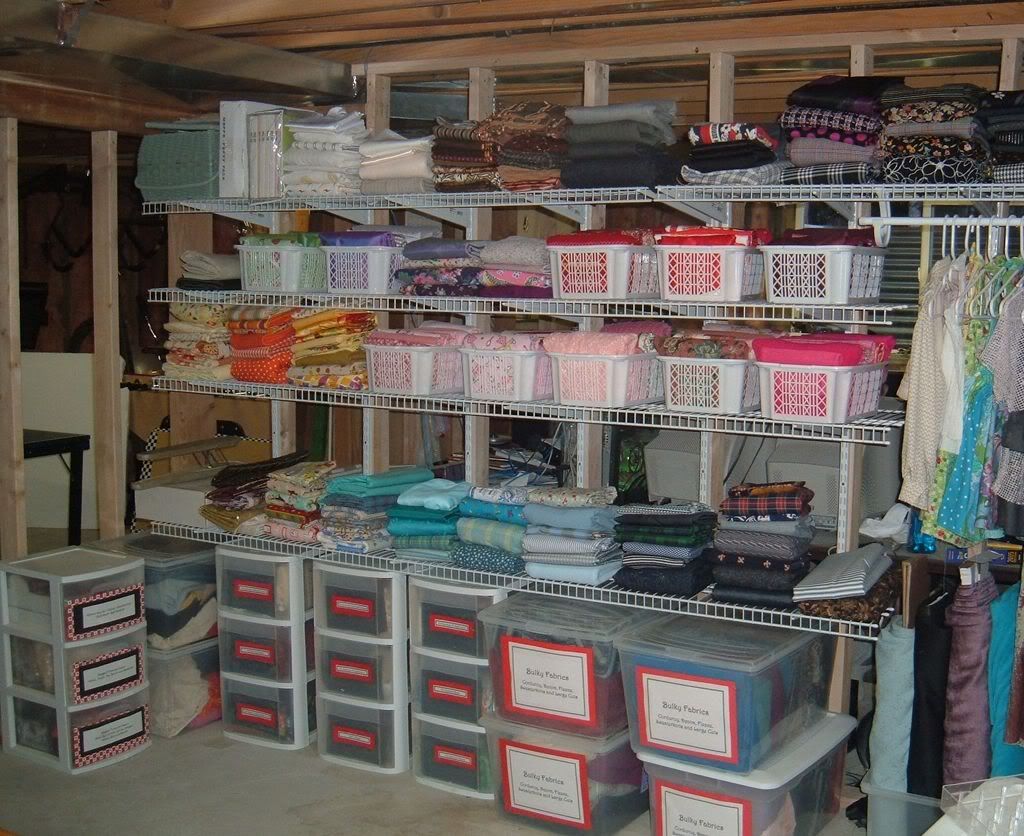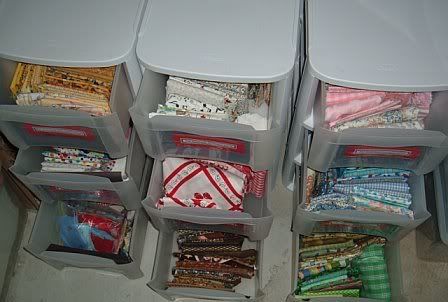 I was asking about the fabrics shown in this post, "Fabric Mecca Beckons." Are those all from your stash?
No. Those are pics from the websites of the stores we will visit. :) The first one is from my inspiration files. I don't even remember where I got it.
And yes, you're right. I started with about 700 yards fabric. However, that includes all kinds, quilting, apparel for me, apparel for children, special occasion, home decorating, vintage collection, coatings, men's, knits, sleepwear, etc. When you spread it around to that many categories, it means that I don't always have a teen girl-appropriate bottom-weight fabric when I need it. I know, I know. Ungrateful brat.
Charity