It's 10 a.m. I have about 8 hours to finish up this little capelet. It should be no problem except that our family has two events to attend today. We're participating in our pregnancy crisis center's Walkathon. Then after that our church has a Biker Blessing. The local motorcyclists bring down their bikes to be prayed over, listen to music and eat hot dogs and burgers. It's a popular event. However, I'm going to return home after the walkathon so I can work on the little capelet. I'll leave the bikers to my men. :)
So far I have constructed the shell. The lining is also put together. The next step will be to make a tiny button loop. I've never made a spaghetti strap before so I'm hoping my cheap plastic loop turner will do the trick. Then just bag the lining and I'm done. I want to make a chinese ball button and hope to find an online tutorial for that. If I don't end up with enough time to make the button, I'll simply do a quick covered button instead. I'm keeping my fingers crossed that there will be a little time left for some hand-beaded accents, but we'll just have to see.
Of course, chatting on here is just eating up the little time I have left so I gotta scoot!!! Will post pics when done and pics of the kids all dolled up as well.
Here's a pic of what I have done so far. The collar looks messy, but I did press it and it just needs the roll tweaked a little. The construction on the collar surprised me for such a quick and easy project. Nothing difficult, just extra steps. There is both an upper and under collar. The under collar is cut on the bias and is done in two pieces seamed in the center. The interfacing is likewise two pieces, cut on the bias and with a center seam. This means that there is quite a bit of ease caused by the bias when you attach the collar to the capelet. For those who might want to try this pattern, you might be tempted to eliminate the interfacing but it really does help stabilize the bias.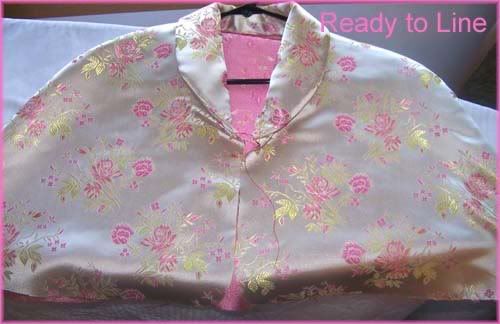 Charity