My youngest son, Casey, has a school formal this weekend. It's a private Christian school so it's much like a prom, but without the focus on dancing and, of course, a more conservative music choice. He has asked a female friend, Emily, to attend with him. She is the daughter of my closest friend and one of my Monday sewing lesson buddies. You've probably heard me mention her and her sister in my posts. Casey and Emily have known each other since they were pre-schoolers. Our families are all close friends. So...anyway...the divine Miss Em has picked out a pink floor-length formal. Feminine, sweet and delicate. Much like herself! It has been cooler in the evening than normal and so I thought she might want a pretty little evening wrap and offered to do one at the last minute. As in the party is tomm. night! LOL!
So we met at the fabric store today. We settled on a simple elbow length capelet with a shawl collar. No sleeves will speed things up. It will be made from a Chinese brocade with a champagne background, pink roses and peridot leaves. It's lined in bright pink flannel backed satin for warmth. Here's the pattern. It's View E without the braid and beading. The brocade is soooooo gorgeous, it doesn't need adornment.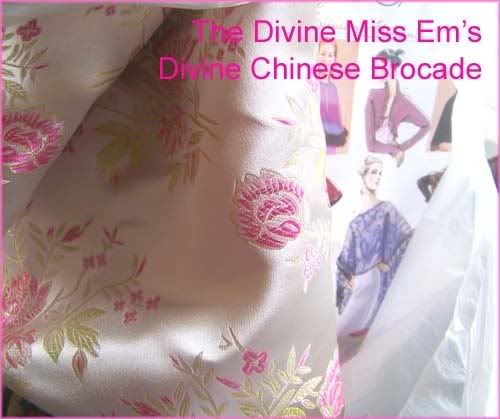 I hope to have time to do a little bit of hand beading on the motifs along the front opening. We'll see. Anyway, I'll post pics as I go. I've got to get right on it.
First stop...clear off my cutting table. It's buried 2 feet high at the moment!
Charity