UPDATE: Just bumping this to the top. Drawing will be Tuesday, May 13th. Get your name in the drawing by leaving a comment on this post.
------------------
To all my readers who encouraged me through your emails and comments. To my readers who sewed or are sewing skirts. Tor those who couldn't sew, but are helping by funding postage or tees. For those who spread the word through mentions on their own blogs. And because of the myriad of other ways you all worked together to help this project be successful...a big THANK YOU from the bottom of my heart. There is no way I could ever truly show my appreciation, but I offer a give-away drawing as a gesture of friendship and gratitude. Please simply leave a comment and I will put your name in the hat for a drawing. You do not have to be one of those doing actual sewing to be involved. Your friendship, support, prayers and words of encouragement are enough. EVERYONE is invited. I will do another give-away when all 100 skirts are here and ready for shipment. There are four giveaways today.
Three giveaways for: a hand-painted Alaskan flowers/scenery needle case, a set of silk, hand-dyed yo-yos for embellishing and a set of hand-sewing needles
And the major give-away...A bunch of goodies packed in a heart-shaped paper mache box (ready for your crafting touch). There are vintage patterns, vintage greeting cards, vintage trims, threads, pins, fat quarters, pre-made appliques, my hand-made baby gift tags, cupcake tags and more.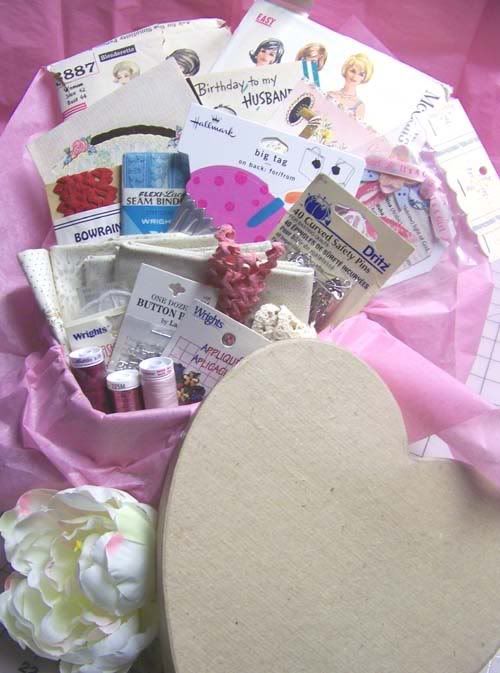 Just leave a comment and all names will be put into the hat for the four drawings.