It was the best of times. It was the worst of times.
Just a little Dickens for you literary types. This best sums up today's sewing lesson. I started a new unit with Emily and Sarah. For the next 8 weeks or so we will be working on fabric modification techniques such as bleaching, dyeing, acid-etching, etc. Today we did heat-embossing and stenciling. I will post a tutorial in a few days. They are both fairly straight forward. I showed the girls my embossed samples (see photos below) and then demonstrated the technique. They were then turned loose to search for textured objects to use as resists and to raid my fabric stash for appropriate fabrics. They had a good time experimenting and came up with some rather interesting samples for their notebooks. Items used for resists included rubber stamps, cookie cooling racks, charms, lace, drapery hooks and even seashells. Then we moved on to stenciling with fabric paints. They were quite adventurous in their fabric choices. Emily discovered that stenciling on faux fur does not work well. *g* A finely woven cotton seemed to produce the best results. Sarah found that moleskin produced an interesting effect. After they secured satisfactory samples for their notebooks, we moved on to their independent project work.
Sarah read up on buttonholes from the Sewing Essentials book (Singer Reference Library), prepping for the final step of her vest. I think I'm going to call this the Marathon Vest as it's been an endeavor getting it finished. The buttonholes gave us fits. No fault of Sarah's. My machine's buttonhole mechanism has been really touchy lately. While the second leg of the buttonhole turns out fine, the first one either doesn't sew at all or is spotty. It was really, really, really, really frustrating. We made two out of five buttonholes and then had to call it quits. We're going to need some major sedatives before we tackle the last three. I will be spending this week trying to determine what can be done to get my buttonholer operative again. Emily, meanwhile, continued work on her fuzzy hoodie. She did the back side seams, the shoulder seams and the side seams. She quit a little early in order to revisit fabric stenciling.
Next week Sarah will finish the buttonholes on her vest (keep your fingers crossed!). Emily will install her zipper and attach the hood. And we will explore using bleach to modify fabrics. Here are some photos of our day together...
Fabric Embossing: Rubber Stamp Resist on Corduroy
Fabric Embossing: Rubber Stamp Resist on Rayon Velvet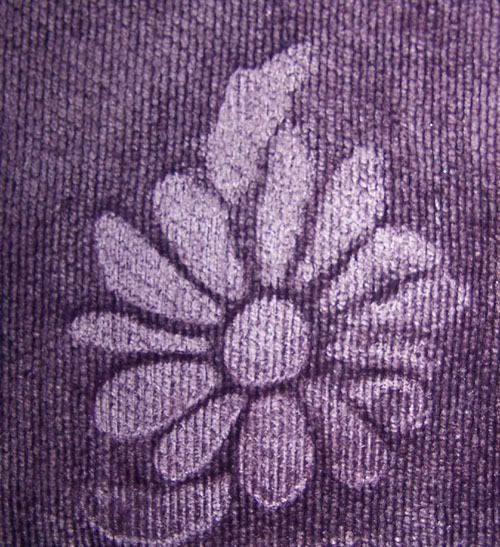 Fabric Embossing: Rubber Stamp Resist on Black Wool
Fabric Embossing: Rubbert Stamp Resist w/Fabric Paint on French Terry
Sarah working on her Stenciling Sample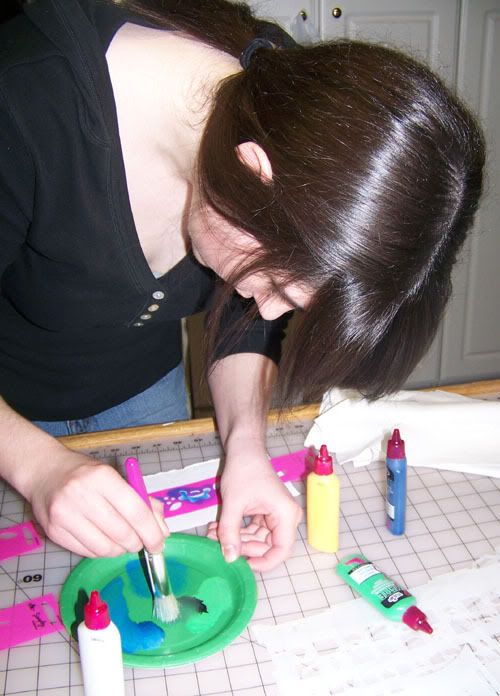 Emily working on her Stenciling Sample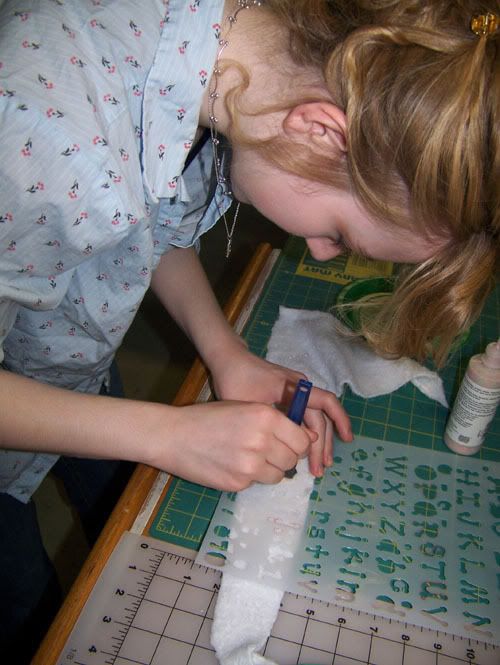 Stenciling on White Cotton
Stenciling on Moss Green Moleskin