The Husband has been after me to consider doubling my sewing room space (we are in the midst of finishing an unfinished basement). This would mean annexing the area planned for his personal study and I just didn't want to do that. It seemed greedy when most women aren't blessed with ANY designated sewing space. So I've been resisting. However, this week I came home from subbing at the local Christian school to hear the sounds of hammers pounding in the basement. I went downstairs to find that he had torn out the wall between my sewing area and his study. I was getting the space whether I wanted it or not. Well...gee...really...what sewing fanatic in her right mind doesn't want a nice big sewing studio? Especially when it's guilt-free because it was HIS idea and he said-so. :) :)
So, my sewing studio has gone from about 13x11 to 13x22. I have been told to get blueprints to him asap. I've never done this before and it's rather intimidating. What if I don't get it right? This is my one chance. I don't feel I know enough to know what my needs are or will be. I've always sewn at the dining room table. So how am I supposed to know what kind of lighting is best and where it should be placed? Or how many outlets and how many circuits (I don't even know what a circuit is!). I'm at a loss. I've read that one should allow 3 ft of clearance around major fixtures, islands, cabinet, furniture, etc. for traffic patterns. But since it's just me in there, can I get by with less? I'd like a bigger island (cutting center) if possible. I'd also like my machine counter to be a little longer. I wanted to have a flannel wall for designing quilt block lay-outs, but couldn't fit it in to my blueprint and am not sure what to sacrifice to do so.
I've been studying two books on planning a sewing studio, but I'd LOVE help from anyone whose done this before or to whom this kind of thing is play. Please feel free to comment. This is my first blueprint idea...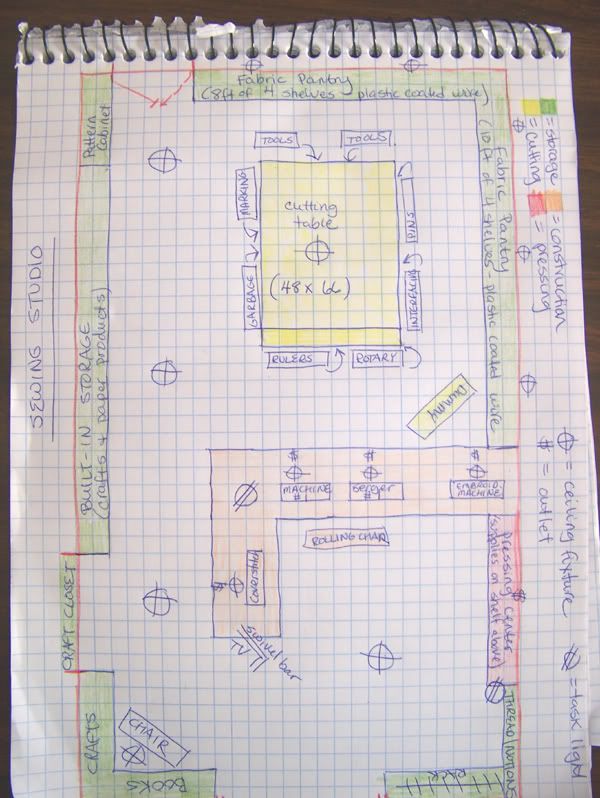 I have a couple of things that limit how I arrange the room.
1) I want to face into the room, particularly looking towards my fabrics and the door as I sew. I don't want to face a wall and I don't want my back to the door.
2) I want my fabrics out where I can see them. Don't want them enclosed.
3) I want an L-shaped machine counter.
Those are pretty much my must-have's.
Charity