I'm hoping to get some serious sewing done today. I lost too much time earlier this week and need to really push the pedal to the metal now! I will post updates as progress continues on this project.
Created bias trim for facing finishes
Completed Hong Kong finish for front jacket lining facings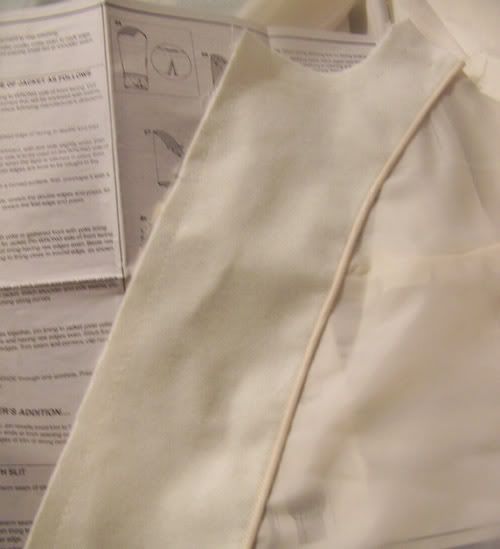 I'm getting ready to bag line the jacket next. I guess for reference point I should link the pattern I'm using for the jacket. This is one of Simplicity's new Project Runway patterns. I'm modifying it slightly to make it a tad more classic. I'm afraid that too extreme of a cropped length or the ruffle finish on the sleeves would make this piece dated and unwearable in a year or two. So I'm creating a slightly more mainstream version.
I'll update this post as I sew along today...
Update...10:45am Alaska time: I have just finished the last of the lining construction. It's now ready for bagging into the jacket. I forgot that before I line the jacket I need to do the embellishments. Otherwise I would be stitching and beading through the lining. Duh! This will be the time-consuming part. It will probably take me a couple of hours to cut out all the little pieces for the vine, leaves and flowers from the felted wool. Then to free-motion embroidery them onto the machine. Then, finally, all the hand embroidery and beading. The embellishment will probably take me about six hours of work. Then I line the jacket, set the sleeves, bind the sleeve seam, do the buttonhole (am doing a one button closure at the top and hidden hook and eyes for the rest) and I'm done! I'll post a few pics of embellishments as they develop.
Completed Lining with Hong Kong finished facings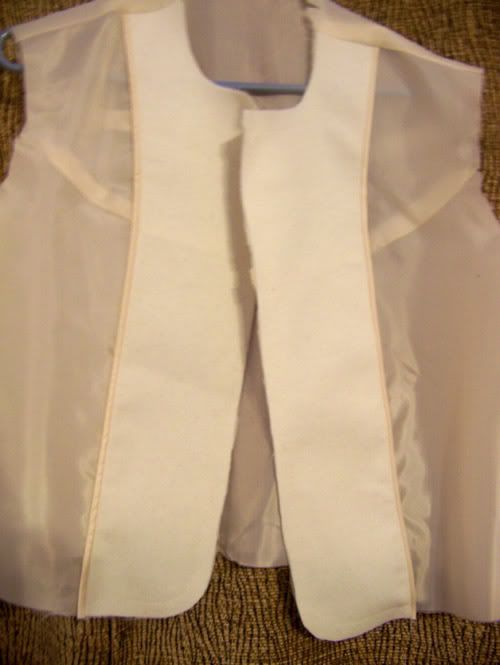 Charity