When you really, really love something, it is only natural to want to pass it on to others. I feel that way about my faith and on a much, much smaller scale...about my love for sewing. Unfortunately, my teen-aged sons are not much interested. I guess it's a gender issue. :) On a much happier note, my best friends' two daughters are! We had talked about it before, but it never seemed to work out. This year everyone's on the same page and we're finally doing it! We've had two sessions so far and I am enjoying myself so much.
Emily is working on making a slip dress to wear under a vintage 40s era shirtdress that was her great-grandmother's. Very Dior's "New Look." A navy flocked and dotted organza. She's making a very basic sheath in navy lining fabric to wear under it, Simplicity 3676.
The vintage dress actually has a very high couture look to it that is trendy right now. Very wearable. She'll have a bit of a challenge as a beginner putting a zipper into lining fabric, but I know she'll do great!
Sarah's first project was a coaster that looks like a little tree stump. She finished her second project, a bunny hat, yesterday. It's a copy of something she saw online for $40. She drafted the pattern herself and her total cost was about $3.00. She was thrilled as you can tell from her big smile! This will be her "snow bunny" snowboarding hat. Cute, huh?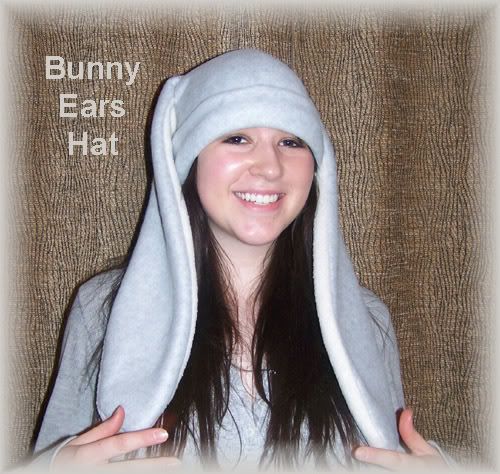 This is all the fun and none of the stress of having my own daughters...*evil cackle inserted here*. Thanks for the loan, Pam! I'll return them when they get hungry and cranky! LOL!