The Husband was supposed to come home today, but a blizzard hit the Slope. His oil field was declared a Phase Three Weather Conditions, meaning only emergency vehicles were allowed to travel. So his plane couldn't get out and he is still at work. Bummer. Since a good chunk of my day was freed up (I usually pick him up at the airport), I took the opportunity to get back at my suit. Only 8 days remain until the contest deadline. The remaining appliqués have all been attached. I have about 25% of the beading on this second front of the jacket done. I estimate about 3 more hours of beading left. I can then finish the final assembly of the jacket which is comprised of bagging the lining and setting in the sleeves. The skirt is already completed. I should make the deadline with some time to spare. I hope the weather will cooperate for photos!
So...off to pop in another disc of King of Queens to keep me occupied while beading. After this is done, I don't want to see another bugle bead for an eon or so.
As far as what project is next, I will begin another contest entry. This one is a designer knock-off contest. I'll be copying the navy and red Katy Rodriguez suit that appears below. However, I will be lengthening the skirt (I am 47yo, afterall) and making the blouse a bit more polished.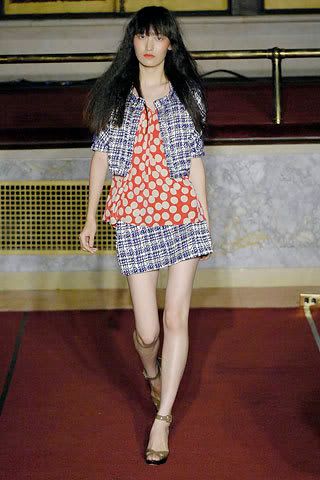 Charity