I've been buzzing away at my sewing machine this evening. The day was blown with an emergency run to the dentist (one hour away). I will spare you the gory details, but let's just say this involved needles, blood and losing half my day. :( :( But I've got the pedal-to-the-metal going on my sewing machine and attempting to make up for lost time tonight.
I'm working on five projects simultaneously. Three Phlip-Phlap bags (Christmas presents, see pic below) and two pink dresses w/pinafores. The dresses will be for two little sisters to wear to see Daddy get off the plane from Iraq. The very poorly taken "in progress" picture is below. As you can see I still need to set in the other sleeve, attach the skirt and hem. Then make the coordinating pinafores from pink camo (Mom's request). The big brother's camo outfit is done and turned out very cute with all kinds of cool pockets and carabiner clips with little boy gadgets attached.
The dresses in progress (Sz 1 and 3 for little girl's age 2 and 5. They're tiny for their ages)
Here is a detail photo of the pants waist.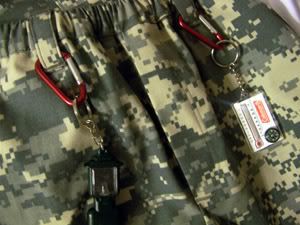 Detail of the vest's cargo pockets. I still need to make the buttonholes and sew on buttons.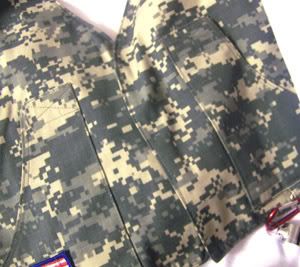 Large zipper pocket on the back of the vest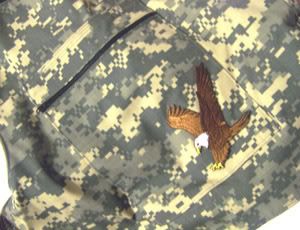 Phlip-Phlap Bags. These aren't my finished bags, but the picture from the pattern front. I'm making my bags in the same olive, gold and burgundy colorway.