I have been busy lately. And so no new posts and no new creations. I've had parties for 3 of the last 3 weekends! We had a 48th birthday party for Craig. Then Casey had a group of about 10 teens over the next weekend. And this weekend my eldest son brought home 7 foreign exchange students. And in the middle of that I had volunteer time at the school, donations to get together for a Silent Auction and a photo booth at the school Carnival to create and run. So all my creating has had to be solely in my head. And for some reason I am fantasizing about quilts.
Fall always puts me in a sewing mood. At first I'm in the mood for working with corduroy, fleece and flannel in wonderful shades of brown, rust, tobacco, russet, avocado, etc. But as the weather gets even cooler, as it does in late October here in Alaska, then my mind turns to quilting! I am dying to have some time to finish up two quilts I have in progress and then start on a fun set of fabrics I picked up recently with an eye towards making a masculine quilt. I picked up about 6 different tartan plaids in traditional Scottish colorways. And then paired them with very funky themed fabrics, dogs, poker, bananas, dice, etc. I know it sounds bizarre and unworkable, but all the colors are in red, green, royal and yellow and they work together in the most charming manner. And I am ITCHIN' to get to them.
But I have to finish up my "promised for others" projects first. If I could stop the stream of parties here, I might get a chance to sew! :( :( But in the meantime, I will post some pics of quilts past. Just looking at them makes me want to quilt again!
Egg Crate Quilt - a folk art version of the Snowball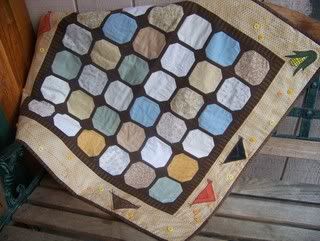 Angel Kitty - made for my mother-in-law who loves both angels and cats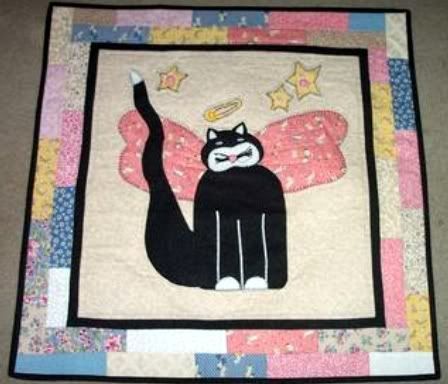 SawBlade Quilt 30s Repro - made for a friend who likes small prints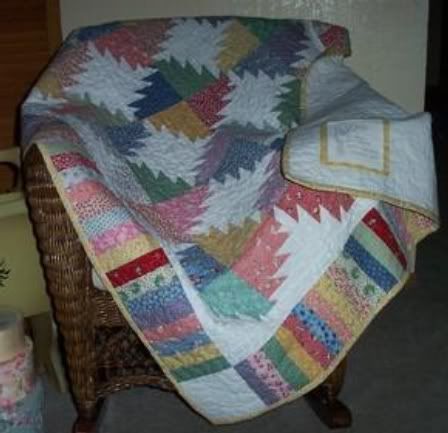 Christmas Mitten Quilt - made of 30s repro fabrics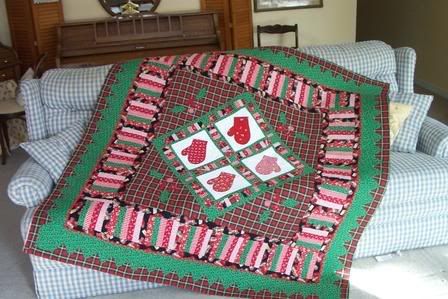 40s Quilt - made from 40s era vintage tablecloths and 30s repro mini prints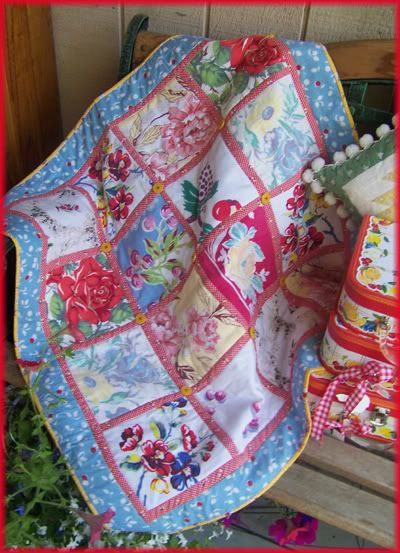 Canoe Quilt - a signature quilt made from homespuns for a retiring scoutmaster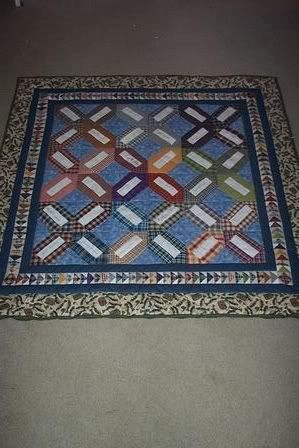 Casey's Quilt - My second quilt, made for my second son. It's badly made! LOL! Casey picked the pattern and fabrics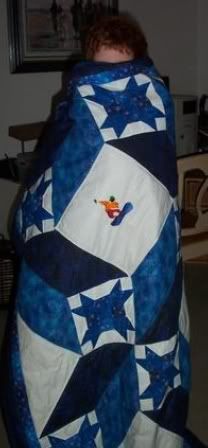 Watercolor Quilt - Watercolor quilts are so much fun to make. They're almost like putting together a puzzle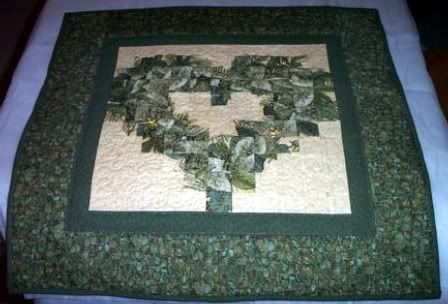 Scarecrow Wallhanging - Made for a sister-in-law who loves scarecrows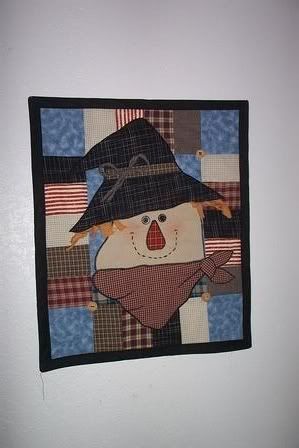 Pig Quilt - Made for a niece who loves pigs. This one was not completed when I took the pic.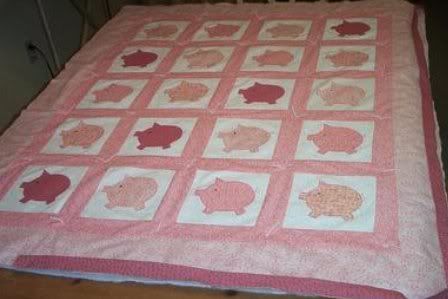 Star Table Runner - Made for a sister-in-law. I found this partially assembled in a thrift store. I couldn't believe someone could just throw away such beautiful work. So I picked it up and finished it!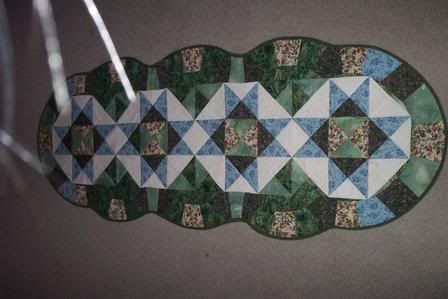 Turkish Cross - This is a variation of the 9 patch. I did in it French Country prints and colors. It is free motion quilted in a wave pattern. My favorite touch is a large rooster free-motion quilted in one corner.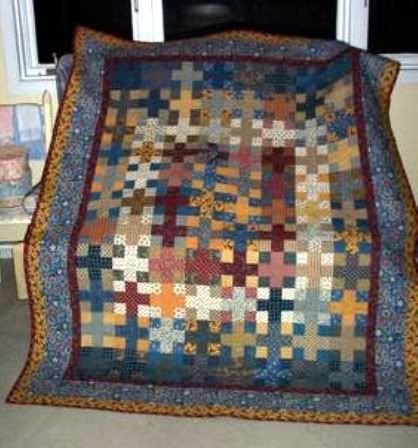 Christmas Trip - This is a Trip Around the World done with scraps of Christmas fabrics left over from years of holiday projects.
I have many more quilts, but that's enough uploads to max out my monthly bandwidth limit and your attention span! :)
Charity