Today at church I was showered with skirts for The Hundred Skirts Project. Six more sets came in. Some with the cutest extras! Then on checking my mail at home, I found that a skirt had arrived from Annika as well. So you're in for another Hundred Skirts Fashion Show. Here goes...
This velvet bubble skirt is from Annika. Stop over to her blog,
Annika's Atelier
, to thank her for her participation. The fabric on her offering is so deliciously soft and features sweet embroidered rosebuds. I know some little girl is going to adore this.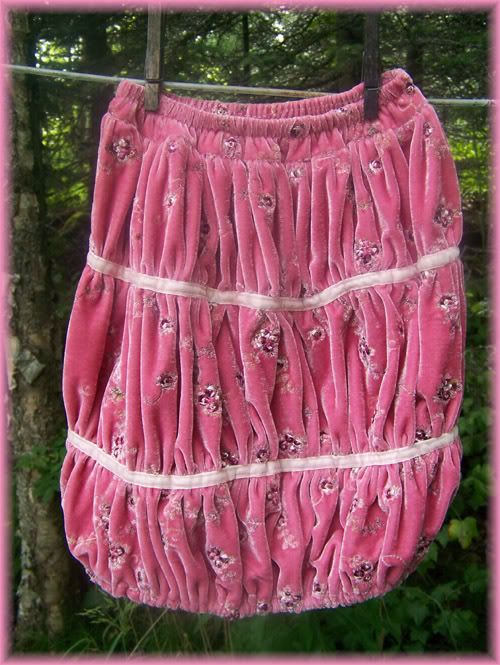 This next skirt is from Sarah, one of my
sewing lessons buddies
. She calls her design "Salsa. The skirt is made from a soft brushed cotton in a vibrant paisley print. She beaded the top for a little extra sparkle and made two hair scrunchies to boot! Thank you, Sarah!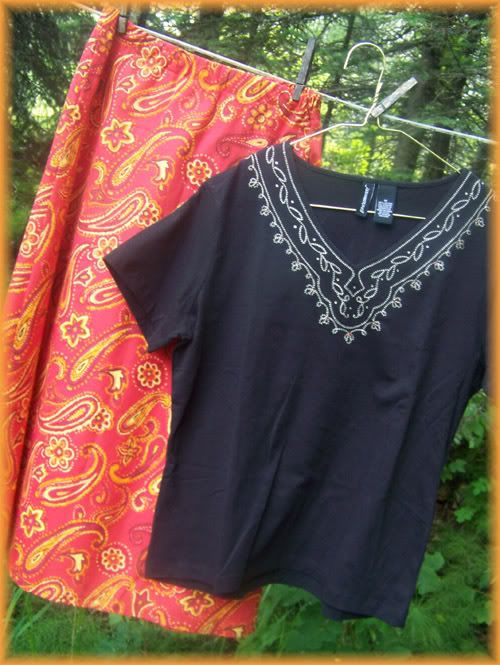 This next skirt is Emily, also one of my
sewing lesson buddies
. Emily calls her skirt set "Flutterby". It is a sweet butterfly print with a ruffle and pink rickrack trim. Emily also trimmed the tee to match. I believe this is a Size 6. Some wee one will love her flutterbies!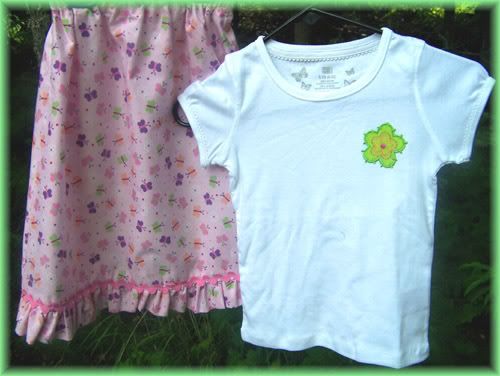 This next skirt set comes from my dearest friend, Pamela. Pam is Sarah and Emily's mother. She is also the gal who cared for me, never leaving my side, for days while I was so ill. Pam made this adorable Crayola print skirt with a red band and rick rack trim. Pamela recently lost her mother after caring for her while she was ill (you seeing a pattern here?). This skirt is even more special because it is made from her mother's fabric stash. Isn't it sweet of Pam to share these precious memories with us!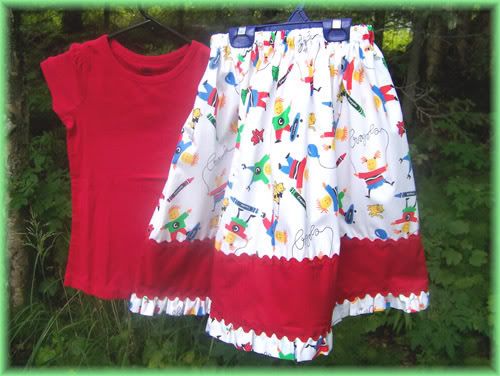 Another by Pamela. This is a really nice weight cotton sheeting with a red rickrack trim at the hem.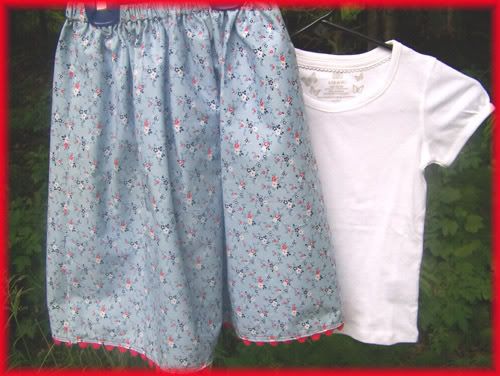 This cute set is from a young girl in our church named Cora. She is a beginning seamstress. I think she did a great job with this calico skirt with double ruffle and double yo-yo flower ornament. She bought two tees to coordinate with her skirt so that the lucky recipient will have two outfits to wear. She also included a cute little change purse.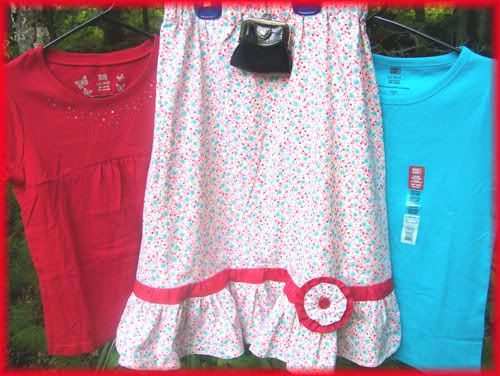 The last skirt is from Yetta, Cora's sister. She is also a beginning teen seamstress from my church. She sewed a lovely skirt from a soft embroidered moleskin. She also included two shirts for two complete outfits. And she made an adorable little purse and included a beautiful glass bead necklace. Some little girl is going to be thrilled with this very generous gift.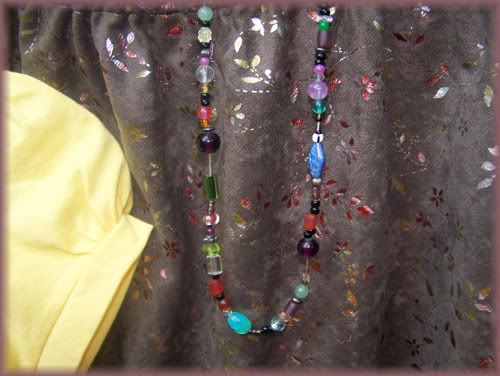 Our total skirts received now stands at 61 skirts with 42 yet to come in. The new deadline is December 1st. Thank you so much to all who have participated so far. I can't tell you how much I appreciate it and what a blessing these will be to the orphanage. If you are interested in participating, it's not too late. Contact me at lovelace@mtaonline.net or VintageThreadsBlog@gmail.com
Charity