Today is brought to by the Letter F and the featherstitch. I have many Works in Progress (WIP) in my sewing studio. I tend to get Creative ADD on a regular basis. I like having lots of things going at once so I can switch between projects when bored. One project I've been working on in bits and pieces for about 5 years is a crazy quilt. Crazy quilts are usually done in jewel tones and black, but mine is in pastels, creams and golds. It consists of twelve 12-inch blocks, which is rather large by crazy quilt project standards. They're quite labor intensive with all that hand embroidery so the technique is usually done in small doses such as needle cases or pillows. This may not get done before I die, but it still gets pulled out and a seam or two done at a time. Since I am not at all a perfectionist, my work is not nearly up to normal standards for hand embroidery, but I enjoy it regardless and that is almost always my goal in my creative endeavors.
Last night I did three seams, two of which are variations on the featherstitch. The first is a short seam in gold floss with grape-like clusters done in the bullionstitch and french knots. The other is a closed featherstitch in white floss with blue daisy loops and some green accents.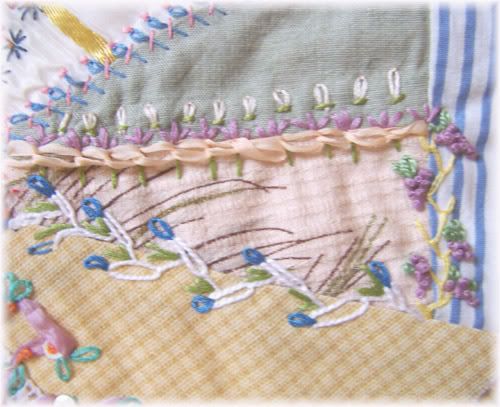 And here's the rest of the block.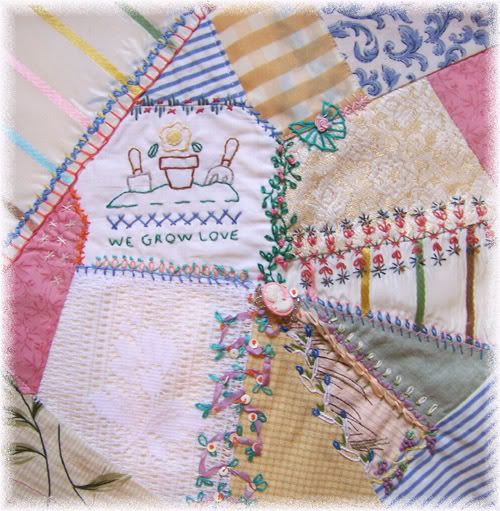 My favorite resource for crazy quilt embroidery...
I was eating dinner tonight when I realized that it was mostly "F" foods, fettucine (Chicken Fettucine) and focaccia bread. So I snapped a quick pic. LOL!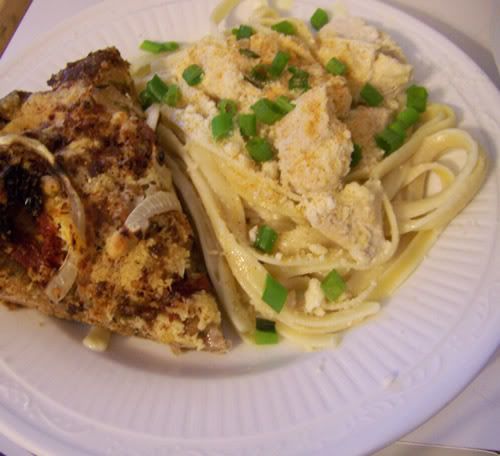 Charity