One of my goals this year was to try to get every inch of the house perfectly culled, decluttered, organized and beautified. Quit laughing. I'm serious. In this process I've discovered a new principle of organization. At least to me. It's kind of a variation on the "bloom where you're planted thing." Ready for it???
Organize your reality.
For years I've tried to set up systems and then get people to use them. I've finally come around to looking at what people are using and then organize that. Rather than fight the tendency for shoes to get left in the front foyer, organize the reality that that's where people leave their shoes in Alaska. Rather than try to get people to put away keys, receipts, and spare change, deal with the fact that it's always going to get dropped on the foyer table and organize that spot.
And that's what I did with this desk below. It had become a magnet for electronic gadgets and their respective chargers, batteries and accessories. I am sooooo not a gadget person. I have let the sight of those gadgets and tangled mass of cords drive me crazy and finally realized that I was going to have to go with the reality. That desk is where it is most convenient and likely for them to get dropped. So organize THAT spot. I turned this roll top desk into a gadget storage and charging center.
First, I removed the back of both the desk and the shelf insert. I did this without ruining them and stored them so that they could be replaced when we wished to use this piece as a desk again. I also stored one of the drawers as its spot was needed for one of the larger gadget chargers. I then ran the plugs through the back of the desk. I mounted a power strip to the back of the desk and plugged in each charger (and a pencil sharpener).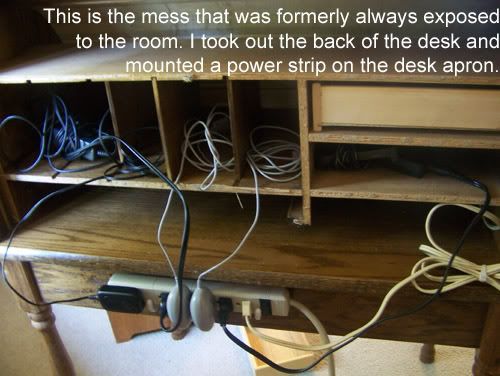 Each cord and charger has its own cubby so that there are no dangling cords, no jumbled mess. They get tucked into their holes until a gadget needs charging. Then its simply pulled out and the gadget plugged in.
The whole mess then gets covered by pulling down the rolltop. There are no cords showing beneath the desk because the outlet is just above the center of the desktop, hidden by the plant. So you'd never know anything electrical is going on.
The drawer holds extra gadgets and batteries. No more mess. And all those ugly electronics and cords are out of sight!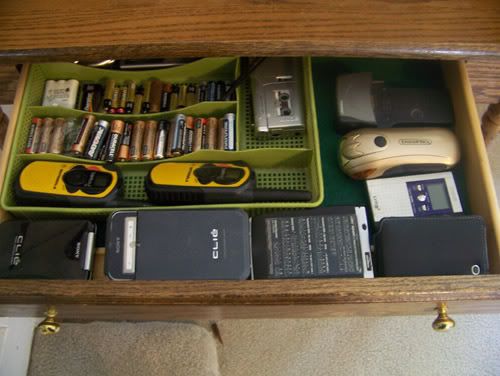 Now on to solve the next problem. There are plenty to choose from!