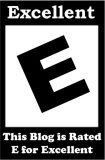 I've probably just dated myself with this post's title nod to Sally Fields, but so be it! Lisa Laree of
Sew Random
has nominated me for the "Excellent Blog Award" (brainchild of
Project Mommy
). Thank you, Lisa!
And my nominations in turn are...
Sew Confused
- Nominated for its clean, fresh appearance, but mostly because of the personality of its owner. Paula reminds me of the perpetual girl-next-door. I like her easy-going writing style and gentle humor. Nice photos and inside glimpses at Paula's current projects.
Phat Chick Designs
- A busy Mom, but a prolific seamstress and a frequent blogger. There's always something new to read. Great photos and love her sense of style.
Laura's Sewing Room
- Not for the fragile of ego...this girl is simply stunning with the cutest little figure. Everything she makes is exquisitely executed and looks absolutely stunning on her. Elegant clothes, beautifully made.
Patterns from the Past
- A great blog for lovers of vintage patterns. Beautiful graphics from a time when ladies dressed like ladies.
Patternaholic
- Another fantastic vintage pattern blog. This one has lots of retro, 70s era patterns. I actually found several that I had sewed as a teen. What a great trip down memory lane!
Lindsay Sews
- Have you always wanted to visit New York's fashion district? Well, you can live your dream vicariously through Linsday who is fortunate enough to live in the Big Apple. She blogs about her trips to the garment district. You will also see her own wonderful projects. I LOVE the floral anorak post she has up right now!
Two On, Two Off
- I have to have at least one fellow-Alaskan on the list. Dawn proves that fashion is not entirely dead in the Last Great Frontier. And...can you believe the woman sews with two toddlers under foot? Prolifically even. Check out her amazing capsule wardrobe photo!
Studio Alexandra
- Reading this blog is an education in meticulous construction. I especially have enjoyed following her gray sheath project which is a wonderful testimony to the power of underlining. There are some great inspiration photos up at the moment.
Sew Intriguing
- She sews. She Knits. She takes fabulous photos. She has amazing fashion sense. Try not to hate her because she's also very sweet. Her blog is a great education in the fine details that distinguish home sewing from couture.
If your blog is listed above, feel free to lift the Excellent Blog badge and post it on your own web. You can also nominate ten recipients if you'd like. And there are far too many great blogs to ever do justice to them all! Please check out my blogroll to the left for more great blogs!