I finished up the valance in the post below. Of course when I went back to buy more trim, the store was out of the color I needed! Murphy's Law. But I selected a gold that was a bit more subdued and worked a little better anyway. I also finished the runner I was planning from the same fabrics. These were fabrics from my stash so there was no cost involved. The back of the runner has a Christmas print so I can just flip it over for the holiday.
When I made my trip to the decor store, I found two buffet lamps that I just loved. But they were $125 each and I just could not justify $250 for an accessory item. The ones below are not nearly as fancy or nice as the ones I loved, but at 9.98 for the lamp and 9.98 for the shade, the cost ended up being 16% of what the others would have cost me. I will add a little ribbon sash to the shade to dress them up a bit. Thank goodness for Wal-Mart!
This is my next home decor sewing project. I have two of these rockers that need the cushions covered with that leaf print. I will use piping on the edges. I'd prefer brush fringe, but can't find it locally. And then I want to make a rustic pillow from a burlap-like fabric and wool with felted wool leaves appliqued.
And here I did some "Use What You Have" decorating, pulling odds and ends from around the house and rearranging them to fill this little empty spot.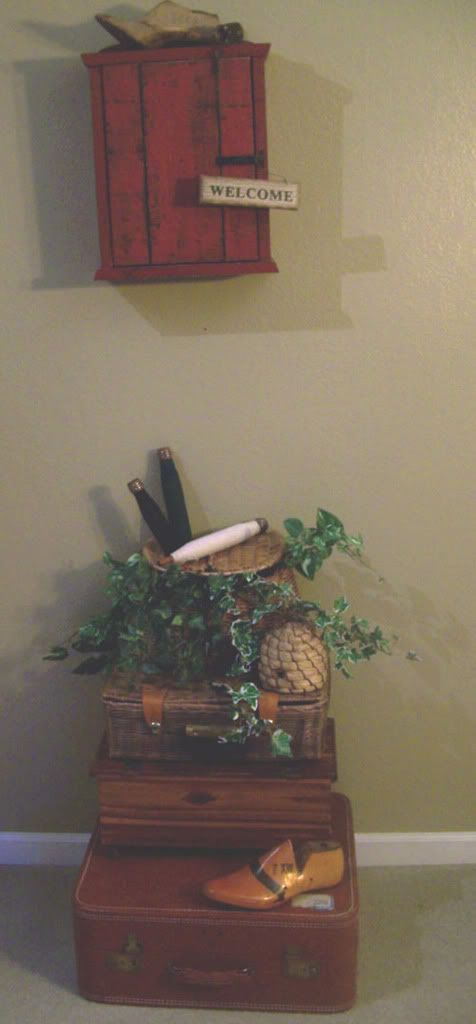 Charity