I'm not usually a follower of Spring Fashions. I'm much more of a Fall Fashions person. I love tailored garments, wools, coats, jackets, tweeds, sweaters and the Fall neutral palettes. However, I went to Anchorage (about 1 hour away) today to spend some time with my eldest. And when with Caleb one will sooner or later end up in a bookstore. So it was that I was browsing the magazine rack at Barnes and Nobles and saw the HUMONGOUS Spring Vogue Fashion edition. It must have been 3 inches thick. I thought it would cost a fortune, but it was only $4.99 so I bought it on a whim. And yes...most of the fashions therein can't hold a candle to what will follow for Fall. BUT, BUT, BUT...there was the most gorgeous multi-page spread on floral and hand-painted silk dresses. And this pic below particularly caught my eye as I LOVE mixed prints. I immediately tore it from the magazine and ran downstairs to shop my stash and my patterns. I think I'm going to be able to get a fairly nice RTW knock-off. I will be using bits and pieces from three different patterns. And I think I've settled on three prints: a black irregular polka dot, a lime and white floral and a purple and fuschia floral. But I'm going to force myself to finish my pinstripe shirt and my baby doll dress before I can start it. I'm hoping to be able to start first thing on Monday.
Dries Van Noten Printed Silk Dresses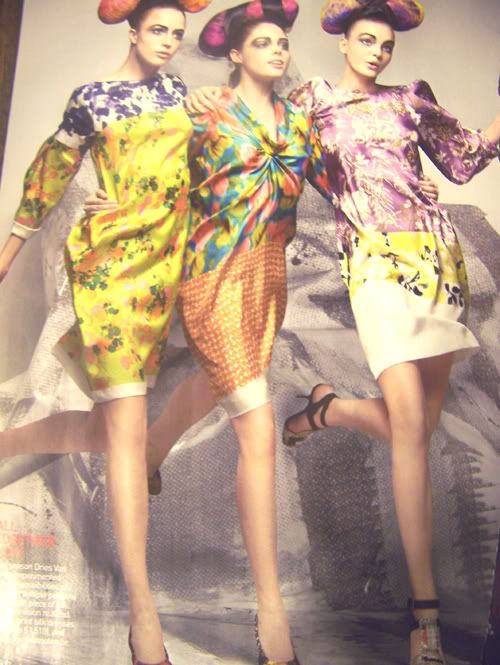 And these are the fabrics from my stash I'm considering. Sorry about the poor pic. It's still dark and it was difficult to get any lighting for the photo.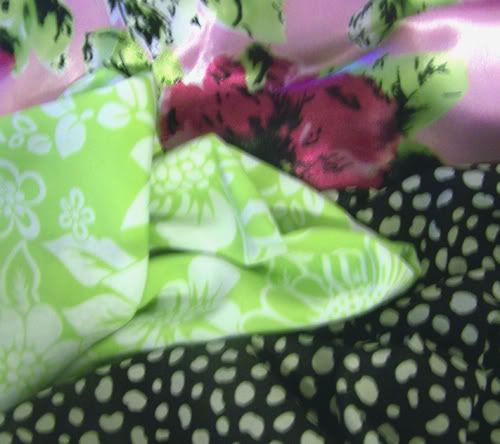 PS - And no...I have no current plans to adopt the matching hairstyle.