Today I plan to continue yesterday's theme of balancing household chores with sewing productivity. Yesterday I finished the gray pinstriped shirt, a muslin for the baby doll dress (still on the fence about that one) and cut out the Dries Van Noten knock-off. Sewing goals for today are to finish the Van Noten dress and then make some serious progress on my Wardrobe Capsule plan. I will post pics of finished pieces as I progress updating this same post.
UPDATE
I've assembled the yoked upper portion of the Van Noten dress. This is made from a black and white irregular dot lined with a lime green and white floral. This upper bodice is taken from an OOP Vogue 8145. It differs from the inspiration pic in that it has a notched neckline rather than the bateau neck. I shaved a tiny bit off the black and white neckline so that the lime print would roll ever so slightly towards the front, creating a faux piping effect that gives just a touch of color to the black print. Next up...creating the shift part of the dress from a lavender, black and lime floral satin with the lime green from the lining repeated in a hem band.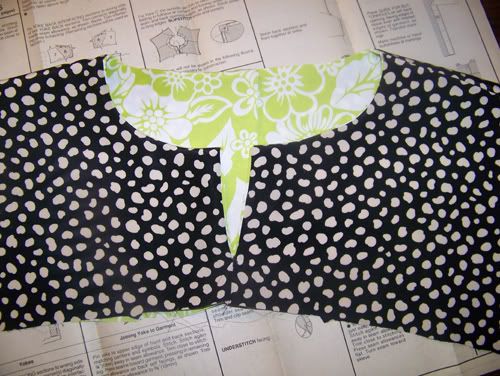 UPDATE
The lower front and lower back have been attached to their respective yokes. Next up are side seams and hem band. And I'm still trying to decide how to salvage my desired sleeve design from my cutting mistake.
UPDATE
French side seams are done. Hem band is in process. Sleeve assembly will be up after that, but I need to take a break to get some household chores and meal preparation done. Not sure I'll get this done today. Maybe by late tonight...
I'm having one depressing realization. No matter how cute a creation is. No matter how creative or beautifully executed. No matter how perfect the fit. I just can't really showcase my work properly at this weight. :( :( There is a reason why runway models are bone thin. As much as I'd like to champion for "real bodies", the truth is that clothes DO look better on thin women. And I LOVE clothes. I love fashion. I love making clothes. I love wearing clothes. And I really need to get the rest of my weight off to look good in my clothes. Yes, I should want to do it to be healthy and be a good steward of my body and all that. And yes, those are important reasons. But for me, I can't stand taking a pic of myself and knowing how much cuter that dress would look in a Size 8 on a Size 8 body (at 5'9" and 47 years old, I'll never see a Size 4 and actually would be thrilled to see a Size 10!) Besides making time to sew, I've got to start making time to exercise again now that the snow and ice are finally clearing off outside!
UPDATE
I've assembled one sleeve and pinned it in place to get the effect. ICK! Something about the high bodice, the poufy sleeve and the floral satin is making it look like the Russian orthodox dresses our Russian community wears here in Alaska. It's beautiful on them, but it will look ridiculous on me. :( :( I'm going to have to restudy the inspiration pic and try to reshape the sleeve. I think the problem is that the upper sleeve (the one that matches the bodice print) is too long and the longer portion is too full at the cuff - almost a lantern style. Sigh...I think I'll step back and readdress this tomm. I'm done for the day. Time to clean up dinner dishes and spend time with my kiddo.