I should know better than to visit home decor stores by now. They are a stumbling block for me. I go in a perfectly happy woman and come out a disgruntled, depressed covetous whiner. But we have a new pastor at our church and he has a totally delightful wife. They have bought a home here after spending the last 3 years on a sailboat. She is anxious to "nest" again and I thought she might enjoy visiting our local decorating mecca. I live in a huge valley, the size of West Virginia, but for all our space we have terrible shopping resources. Especially home decor. EXCEPT...for the "yellow barn" store. It's a huge building stacking to the vaulted ceiling with all kinds of gorgeous (and expensive) home goodies. The owner has exquisite taste and the store is beautifully merchandised. It is so overflowing with lamps, shelves, boxes, pillows, candles, aprons, finials, tassels, chairs, tables, couches, etc. that you have to slide around sideways carefully watching your purse lest it bump a very expensive knick-knack onto the floor. We had a great time, looping around twice just to take it all in. I was very good and left empty-handed. But somewhere along the way I shop-lifted a major attitude problem. I arrived home on a major decorating tear. I shuffled furniture and redistributed accessories and spray-painted frames and..and...and... Which leads me to the Brain Freeze....
I decided that the back foyer window needed a topper. I had given the window a really cool Gallery Glass treatment when we first moved in ten years ago, but in my current mood it seemed insufficient. So I sketched out a simple topper - afterall it's a small window and whipped it up on my serger. It seemed a little bare so I decided I would pick up some tassel trim on my trip to Wal-mart to fetch the rod and curtain rings. The window is 34 inches wide. I made the topper 46 inches wide so it would have some ease and not just lay flat. But when I get to Wal-mart and the clerk asks me how much trim I need, what do I tell her? A yard!!! I didn't even think about it until I came up inches short upon applying it. ARRRGGHHH! Now I have to pull it all off, go to the store and buy more and start all over.
That's my wake-up call. Time to readjust my attitude and return to being the happy little homemaker blissfully ignorant of how far her home falls short of HGTV standards.
Just for giggles and grins...here's my new window topper. In the photo it looks like it's shorter on one end, but it's not.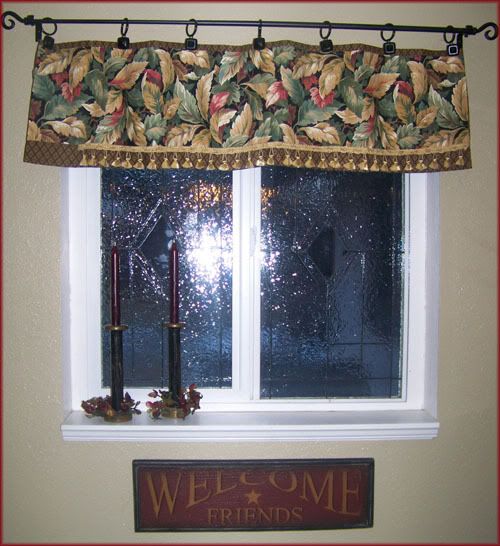 And here's how $10 worth of Wal-mart greenery gave my hutch a boost.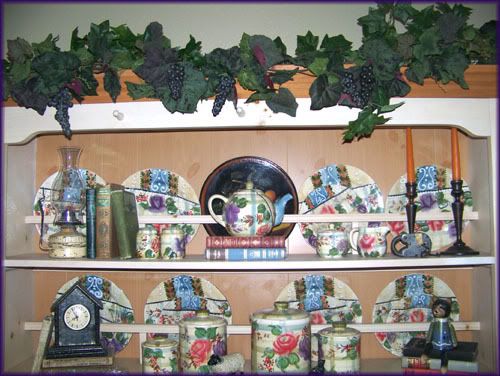 Charity