Okay...so it's a very bad pun. But I am taking a brief break from all that beading and am "skirting" around the wool suit for a few hours. This is the year I've decided that, other than a few projects already in the works, I am finally going to sew for myself. Even if I'm not at my perfect weight. I'm dressing the body I have now. And I have...drumroll, please...about 800 yards of fabric in my stash. That is an obscene amount of yardage. I've made a pledge to try to sew exclusively from my stash this year. So since my eyes were aching from all that beading, I decided to give them a rest and whipped up this quick skirt in the meantime. Very bad picture. Sorry. I couldn't get any good lighting and there was no one to help me shoot a quick pic outside. Thus the ubiquitous mirror shot.
A-line skirt with contoured waistband from largescale black and white houndtooth twill with a good dash of spandex. This is one very, very comfortable skirt. And it only took about 1.5 hours to make.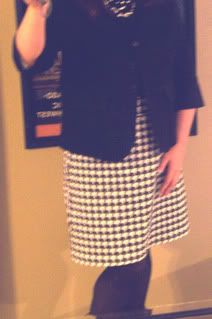 Now back to the beading...
Charity