I bought the Daisy Kingdom pattern in the post below years ago. Of course, in the meantime, Daisy Kingdom went out of business and that fabric was discontinued. Without that fabric, it's just a plain ol' A-line jumper. However, since this is the year I am sewing down my stash, I'm not allowed to shop for it, even it if WAS still available. So I have to approximate with what I have on hand. I found two wool/rayon challis blends in my stash that will be used for the plaid jumper and the bias cut contrast plaid band. I found a paisley that I will use for the ruffles. Of course, it's the floral border down the side that is the style statement in this baby, but you can't have everything. The jumper is not lined and I am in "line everything that isn't nailed down" mode. I'm sold on lined garments. They drape better on the body. They're more comfortable. They wear well. They hide seam allowances. They're just classy. :) :) So I'll be lining the jumper instead of using facings. I am going to bind the neckline and armscyes with bias binding strips made from the paisley. I will also be repeating the paisley in a felted wool and yo-yo flower broach that I will make to adorn the front pocket.
Here is a rough mock-up. Side seams are done, red plaid is just pinned on so I can get the effect. The paisley will be the ruffles and binding. It smacks a little of Catholic School Girl to me. But I'm pretty sure it just needs the finishing details that always make a garment. If not...well...I'll have to convert to Catholicism.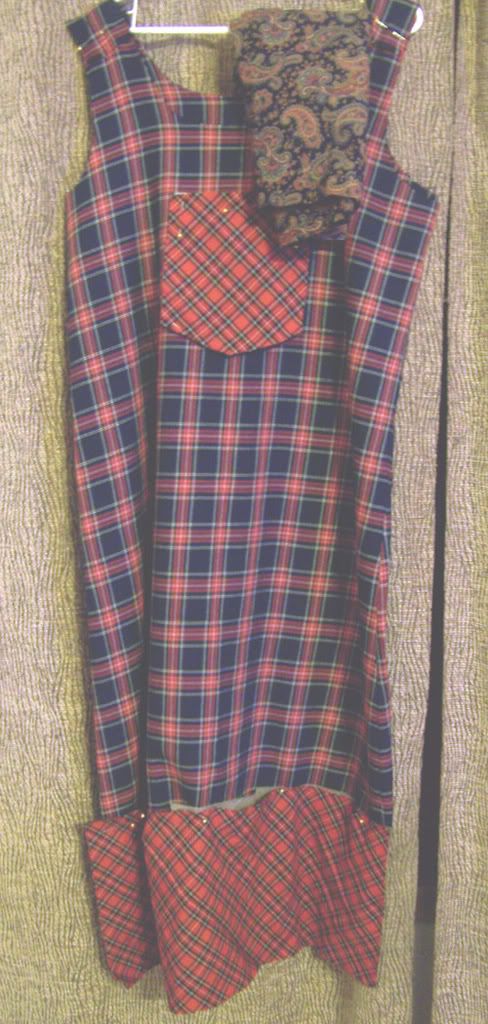 UPDATE - I bound the pocket edges and attached it to the jumper front. I'm now playing around with felted wool and yo-yo to create a pocket embellishment. But no more tonight, I'm heading to bed and will pick this up tomm.
charity