Still slugging away down in the depths of our basement...Today I worked on two 6 ft. shelves that hold the bulk of my completed creations (listed or waiting to be listed) and a good chunk of my craft supplies. This is the second wall. When the studio is completed this wall will be 22 ft long. The machine area will wrap the corner and take up about the first 8 ft or so of this wall. The next 6 ft. will be a Quilt Layout Wall, a section of wall upholstered with batting and flannel for laying out quilt squares into a final design. The remainder of the wall will be the open shelves depicted below as well as two closed storage 6 ft. cabinets. I have to measure this out. I think I might have more plans for this wall than I have wall. :)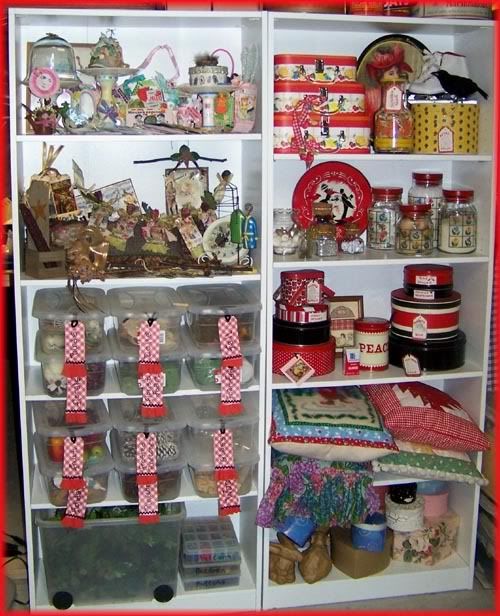 The top two shelves of the first unit are papercrafts and small crafts that are listed on either Ebay or Etsy.
Very bad pic. I couldn't get enough light into the cabinet. Will try to retake it later.
These shoesboxes hold various craft supplies such as birds, cloches, florals, pinecones, wood shapes, etc. Tags help me locate items quickly while adding color. Items are filed alphabetically. On the bottom is a large crate of greens and my buttons color-separated in floss boxes.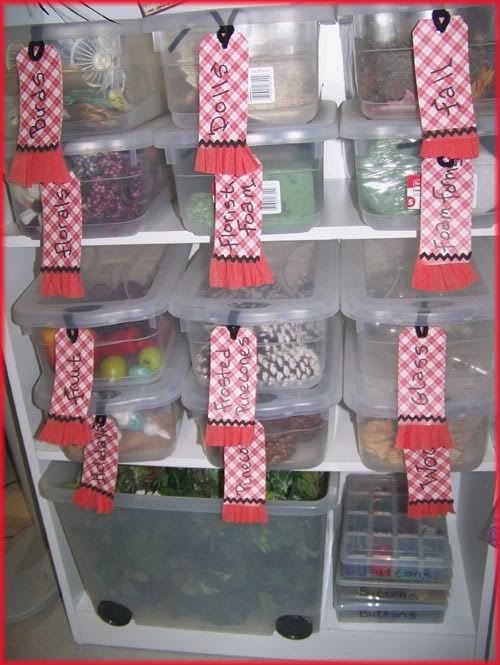 Top shelf of the second cabinet contains papercrafting supplies in adorable 40s-style boxes, a 70s era hatbox and a vintage juice carafe.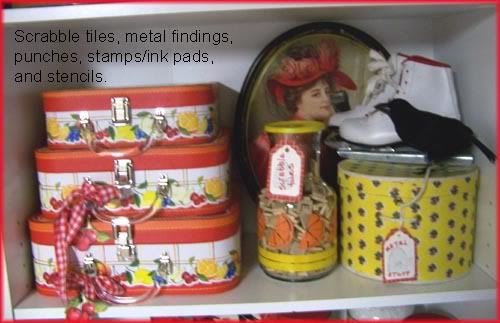 Second shelf utilizes glass jars. The floral cannister set I found at a thrift store for next to nothing. I spray-painted their wood lids red to better match the color scheme. They hold wood eggs, faux snow, plastic pellets, and white millinery. The small corked bottles hold silver and gold glitter and jingle bells. A glass bowl holds seashells and some mercury antique birds that I found recently and absolutely adore. Smallest bottle holds my rusted safety pins (and it looks like I need to make another batch asap!).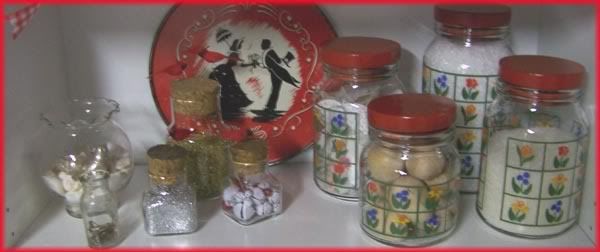 The third shelf utilizes tins and hatboxes in red and black that I have picked up over the last few years. They are clearly marked as to their contents.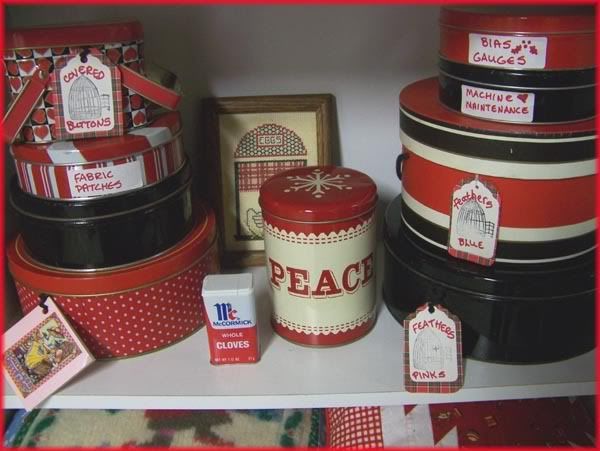 The bottom two shelves holds pillows currently on sale and boxes and papermache items awaiting their new looks.
I found this cart for 60% off the last clearance price at Fred Meyer's this weekend. It is heavy-duty solid and I got it for a steal of a price. I am using it as my "primitive gatherings" cart. The top holds the tray or butcher block and the drawers the various needfuls and necessaries. For those of you who aren't sure what a "gathering" is, I've provided a photo. I usually do a half dozen or so of these in the Fall so watch my Ebay auctions over the next few months.