Okay...third wall is complete. This one only needed a little tidying as I had set up my fabric storage a couple of years ago. Now I'm into the home stretch. The final wall is a big mess. It might take a day or two to get it completed. And the next project will be to revise my floor plan with new electrical outlet locations and new lighting plans. Since we're doubling the room, I have to rethink these things.
Fabric storage is simple white wire shelves with plastic bins, organized by color. Under the shelves are large bins for bulky fabrics and small drawer units for my fat quarters, cuts under a yard and trims. At the end of the wall is an area for hanging garments in progress and special occasion fabrics that I don't want folded and crammed into baskets.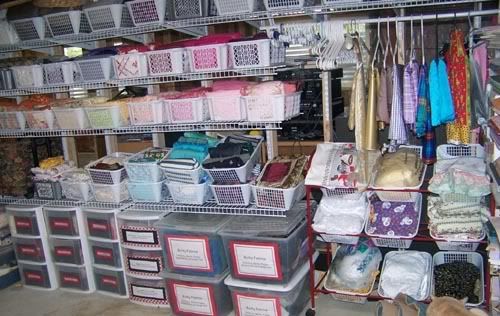 Under the hanging garments area is a rolling cart that I use for works in progress. Each basket contains an unfinished project or a project that I want to be tackled next. Everything needed pattern, fabric, notions, etc. are in the basket and ready to go! Because it's on wheels, I can roll it over to my machine area when work starts!
Will post final pics tomm. or the next day.