Those of you who are regular visitors might remember the story of Mr. Bonz (July 15th post), a half-alive kitten I found abandoned while on a walk. I took him home not expecting him to make it through the night, but he made it! Not only made it, but is thriving. Here is the original photo of him in my 16yo son's palm. See how tiny he was...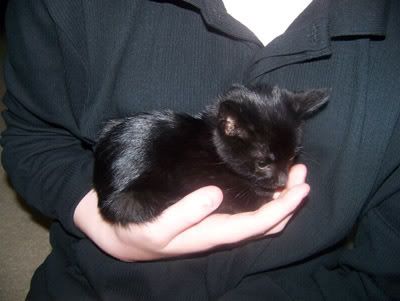 And now three weeks later, he doesn't even fit in Casey's palm. He has about tripled in size in that time. Here's a photo taken today. I tried to get Casey's hand in the pic so you could compare to his previous size.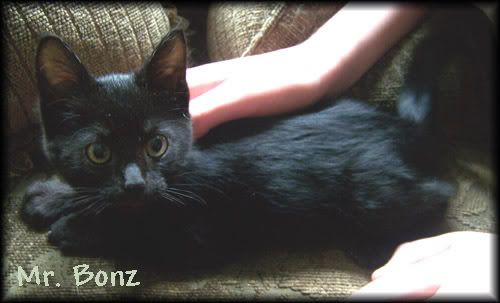 And he is SUCH a wild man. He tears all over our bedroom, jumping up and down off the bed, whipping in and out of closets at top speed. It is so hard to realize that this is the same kitten as the bag of skin stretched over bare bones that laid dazed and apathetic in my hand on our trip home after his discovery.
I can't tell you how much God has used this kitten to teach me so much in just three short weeks. For instance, how much He cares about ALL His creatures, enough to bring Jana and I to just the right spot at just the right time. And that if He cares this much about a frightened, dying kitten how much He must care for human life. This kitten has taught me the value of life in all its potential. The need for all living things to have the chance to grow and thrive and fulfill their God-given destiny. It has also given me hope for a community I care very much about...my local church. We have been through such a nightmare these last few years. I have despaired that our body would ever again thrive, be healthy, make a difference in our local community. I had written us off as dead, ready to walk away. But just as I thought this kitten was beyond hope, but discovered that careful nurture, tender love and a willing worker could resurrect the dying, so I am tentatively beginning to hope that there are second chances for our church as well.
Perhaps you have something in your life that you have deemed beyond hope...a marriage? A floundering child? A friendship? A terminal patient? As long as there is a breath of life, there is hope. I don't usually go in for introspection and sentiment on this blog, but I wanted to pass on the lessons that Mr. Bonz has taught me. May he, and you, live long and prosper.