Well...the truck deal was declined. BUT Dh was true to his word and we were at the dealership bright and early to begin negotiations on the craft inventory. I had high hopes of walking off with most of the stash, but the boys-with-tires had dragged in a woman to go head to head with DH. So we lost our bargaining edge right off the bat. She knew what was what. There was no way she was going to let me walk off with $10,000 worth of inventory for $500. Shucks! But she did agree to do some selling by lot prices and we got her down to .25 a fat quarter. I began digging through boxes and drawers and shelves, setting aside my finds while DH and she began their wheeling and dealing. An hour or two later, I had about $1600 worth of inventory for $200. I wanted a lot more, of course, but it was absolutely overwhelming to try to make decisions when nothing was easily accessible. Major contortions were involved to try to get to quite a few of the drawers. I had to move a bike, a kayak and an antique commode. Since I didn't know any of the prices nor what she would agree to, I had few parameters to try to prioritize what to buy and what to set aside. Now that the initial foray is over and I'm more familiar with what they're willing to let go cheaply and what is set in stone, I will most likely make a couple more trips back. I'll probably even load up the car with some of my teenaged sewing buddies and make a field trip out of it.
So this is what I got...
106 spools of thread - Mostly Gutermann, Mittler and some specialty threads like metallics, fusible, blending filament, etc.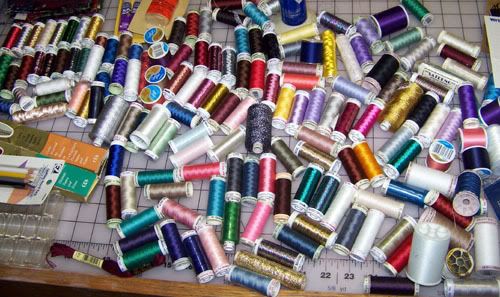 17 cards of hand-made porcelain, pewter or sweater clasp buttons, many of them with $6.00 price tags on them.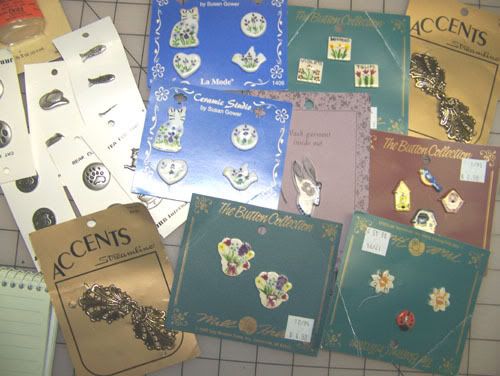 73 iron applique patches, applique kits with pre-cut pieces, metal filigree craft appliques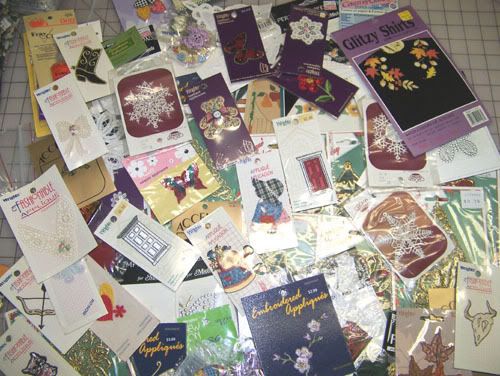 30 packs of platinum, gold-topped, cross-stitch, silk ribbon, tapestry, hand-sewing, quilting machine needles, sewing machine needles, etc.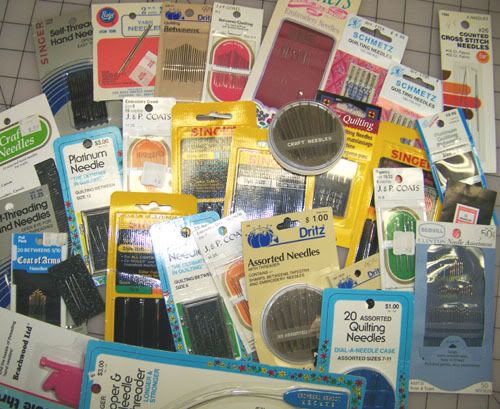 11 needle cases, 7 of them hand-painted with Alaskan wildflowers. I will probably do a give-away on some of these. So stay tuned.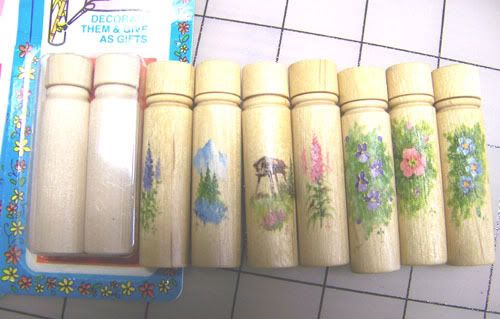 A 5 ft. Pressing pad (needed that!), a seam roll, two rulers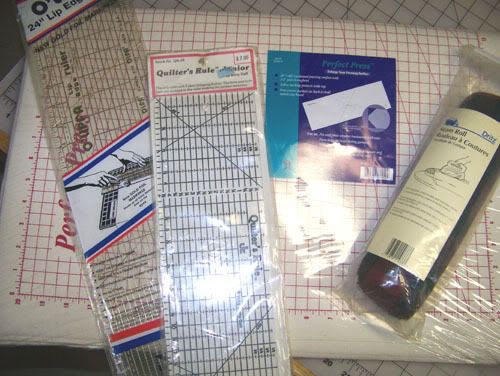 9 packs of SILK (!) yo-yos for embellishments. This will be perfect with felted wool leaves and vintage buttons to make folk art flowers.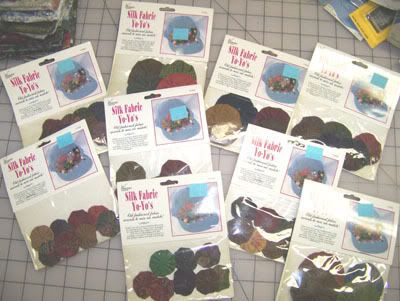 A complete color card set of 11 silk ribbon embroidery hanks, Judith Montano's silk ribbon embroidery book, Elegant Stitches, a $30 silk ribbon necklace kit, assorted related notions.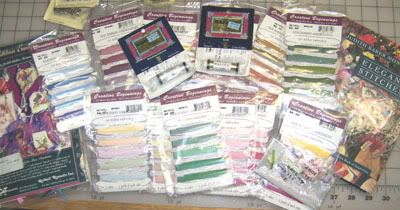 67 quilt fabric cuts, some FQs and some 1/2 yard cuts (.25 each!)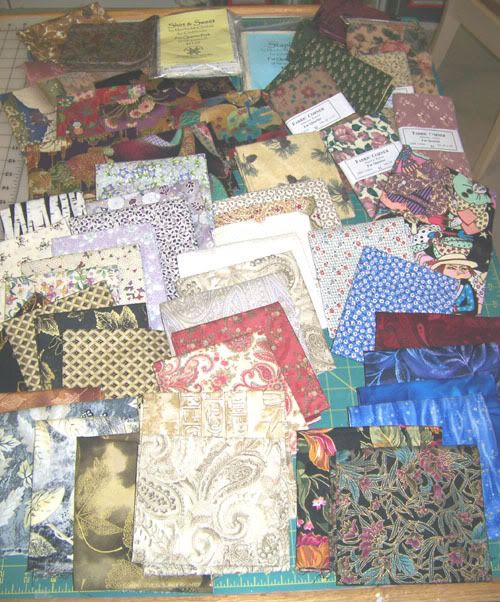 Not pictured strictly because of bandwidth issues...
applique scissors
rotary cutters w/ extra blades and pinking blades
decoupage scissors
komfort-kut scissors
pelican scissors
mini-iron for applique work
several fisker scissors with covers and built-in sharpeners
30 packs of quilting pins, silk pins, glass head pins and other pins
two pincushions
two Simplicity Giant Sewing Books
one memory quilt book
one sewing journal
24 yards of vintage lace trim
huge lot of assorted knitting, crochet notions, bodkins, loop turners, gadgets
cute decorative magnets and tacks for bulletin board
patterns
two adorable broaches made from antique quilt pieces under glass - $19.95 retail each. I got them for $1.00!!
a package of the most adorable tiny vintage chenille chicks
I will be back for more! To my Alaskan readers, I'm now willing to share my secret. :) Hope you don't think I'm awful for getting there first. :) It's the Family Flea Market in Eagle River! Don't let the awful storefront put you off. It's way in the back, but be prepared to really work for it. Have fun and leave something for me. I have a birthday next month and I know where I'm spending my birthday monies! :) :)
Charity