I'm going to have to really keep on track if I'm going to get 10 pieces sewn by April 30th, the Wardrobe Contest deadline. I'm going to do a weekly progress report. Here is where I'm at as of today. The Contest calls for 10 pieces, 1 jacket or dress, 1 accessory, 4 tops and 4 bottoms. You can make more as long as the ratio of tops and bottoms stays equals. I just realized that I put in an extra bottom. I will either have to eliminate a bottom or add a top. I will make that call closer to the deadline. For now the plan will stay as it is.
PROGRESS REPORT:
Piece One - Red Polka Dot Rayon Blouse - muslin test completed
Piece Two - Red Polka Dot Rayon Skirt - nothing yet
Piece Three - Navy Daisy Silky Blouse - muslin test completed
Piece Four - Navy Moleskin Skirt - nothing yet
Piece Five - Navy Moleskin Top - nothing yet
Piece Six - Red Twill Peacoat Jacket - Muslin test completed (see corduroy jacket below) So far, I have cut out this piece, assembled the sleeves, done the side seams, set the sleeves, Hong Kong finished the interior seams, made up the collar, and interfaced the facing. I'm getting ready to attach the collar and facings next. I've probably got about 3 hours left to finish it up.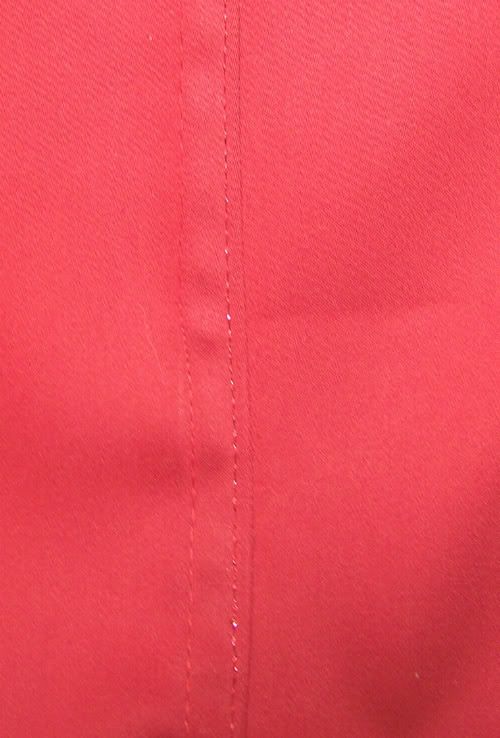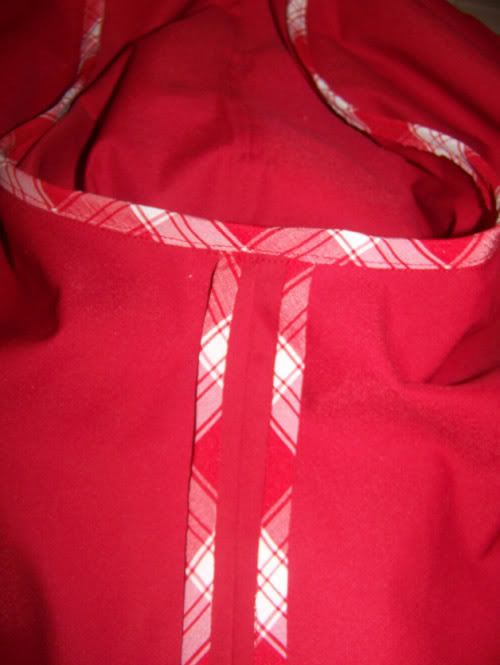 Piece Seven - Red Twill Skirt - Setback on this one. I thought I had enough of the red stretch twill to do both a jacket and this piece. However, there was barely enough for the jacket. I will have to look elsewhere for the skirt fabric. I was hoping to work entirely from my stash, but am not sure I have another red solid for this piece. If I have to buy I will not attempt to match the jacket fabric exactly. It is a sateen-finished twill in a lipstick red. I know that our local sources will not have this fabric. I bought it years ago and it has since been discontinued. I will attempt to find a textured red tweedy fabric or a red denim. Something that will coordinate, but not look like an attempted-but-didn't-make-it match.
Piece Eight - White Denim Capris - nothing yet
Piece Nine - White Lace-Up Tunic - nothing yet
Piece Ten - Contour Band Jeans - nothing yet
Piece Eleven - Madras Plaid Purse - nothing yet