I went thriftin' Wedsnesday. I was hoping to find some rolls of vintage wallpaper and books with great illustrations. While I came up empty-handed there, I did find lots of other papercrafting and collage supplies. So here they are for your viewing pleasure (only other thrifty/crafty types would understand why we enjoy seeing each others' "junk")!
Two great vintage girls' patterns. As you can see, I've already started in on these. The groovy one will be a card and the other is the beginnings of a collage.
Assorted vintage greeting cards. There are some funky 70s owls in bright orange and yellow. One pretty cottage card from the 40s. And lots of florals which will probably become tags.
Bits and pieces of costume jewelry which I most likely will use to adorn vintage bottles a la Brenda Walton (see link in sidebar)
Vintage embroidered pillowcases. Got these for .50 each! I like to use them when creating cottage-style pillows or totes. Here's an example of a tote I made a few years back using a vintage pillowcase. The tablecloth I will most likely combine with a funky red print and make a couple of aprons.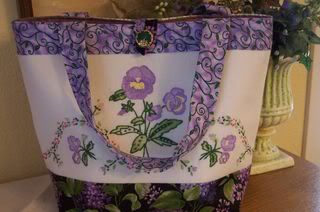 Paper mache rabbits and swan. They need a crackle paint treatment, I think. Then some embellishing.
"Swanky" cards. Vintage boudoir lady (only two, unfortunately) and 4 5-packs of the tuxedoed gentleman!
Assorted craft supplies. I'm not sure what I'll do with the baby sock roses. Perhaps make a little bouquet in a vintage shoe? And I have no intention of taking up tatting, but I couldn't just pass it by when it was only .50 and the 9.99 price tag was still on it! So...the Beginner's Tatting Kit goes to whoever posts here first that they would like it. Shipping is my treat!