Jana (a neighbor and friend) and I were walking near a thick woods on Friday. We spotted a small tuft of black fur in a rocky patch of the trail. We approached to find a tiny, terrified kitten. Jana scooped it up and handed it off to me so she could chase down another that began bolting into the underbrush. We tried to find the other kitten, but were unable to do so. We decided to finish our walk and try another search on our way home. The tiny black kitten snuggled in my arms for the rest of the walk, lethargic and dazed. I created a little nest for it in our small master bath to keep it separated from our two dogs and two cats. I was able to get a bit of diluted soft cat food into it before retiring for the evening. Since it was nothing but a bit of fur stretched over bone, I dubbed him "Mr Bonz". I didn't really expect him to survive the night.
But in the morning, he was still breathing, but not very responsive and seemed too dazed to even take water offered to him in an eye dropper. I brought him into our vet who gave him a subcutaneous injection to hydrate him and gave me instructions as to his care. She said we'd just have to wait to see if he would live as extended starvation may have caused internal organ damage. She estimated his age at 6-7 weeks. He weighed only 14 oz. Further inspection revealed he had extra toes.
I have become much invested in his survival and growing rapidly attached to Mr Bonz. He spends the night sleeping in the hollow of my collarbone purring contentedly and kneading at my neck with his oversized paws. Here is a pic of Mr. Bonz in the palm of my 16 year old son's hand.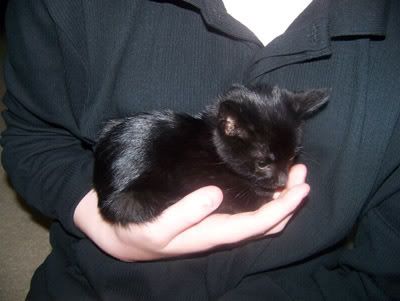 It dawned on me yesterday afternoon that this multi-toed, all-black cat showed up on Friday the 13th. Good thing I'm not superstitious!!