Ten years ago February we bought our first home. A fixer-upper in very bad condition. In those ten years we have pushed back an exterior wall, removed an interior wall and fireplace, installed a gas fireplace, painted every room, refloored every room, dug out the crawl space to a full basement, poured concrete and installed radiant heating in said basement, built a garage and too much more to mention. And we've done all the work ourselves with the exception of having the garage foundation poured professionally. There is still much to be done. Last night I tackled something that has been nagging at me for a long time. One of those little, low-priority things that constantly drop out of the radar but still manage to zap your spirits everytime you see it.
The closets in our bedroom were a chippy white paint. The interior doors and trim were still in their woodtone finishes. The room is decorated in a victorian style in shades of black, burgundy and moss green. The obvious shade for them is black. So now they're almost finally done! I did the closets. One interior door is ready to be rehung. I have the hall door and the trim left to do. It looks so much better already and it's amazing what a simple thing does to lift the spirits. I bought reproduction glass pulls for the door and they're perfect. These are lousy pics. Hard to photograph black in an already dark room....I will post pics of the rest of the room when I get it completed.
Closets After Painting, new crystal knobs and some vintage purses. I'm debating stenciling a gold scrolly motif in the center of each panel. Wha'cha think? Too busy?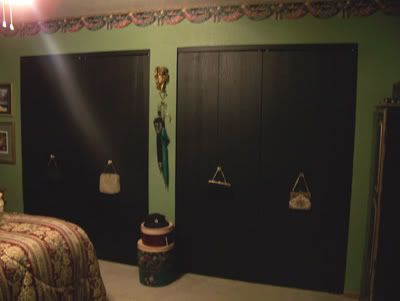 This was an unfinished piece of furniture. I need to finish some touch-up painting, pick out some pretty hardware (glass knobs to match the closet, perhaps?) and then I'd like to have some roses hand-painted on the two large door panels.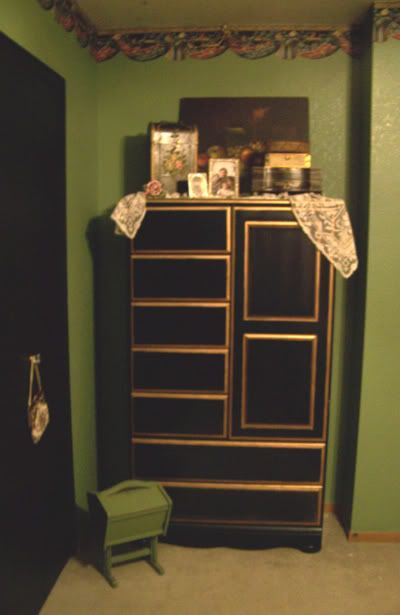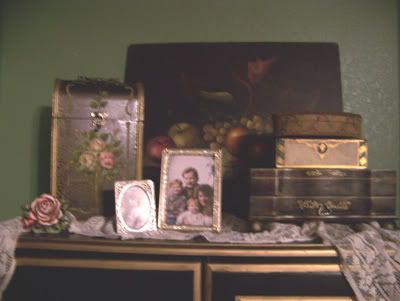 Craig and I upholstered this wood cornice and mounted on the ceiling using L-brackets. The curtains are hung with tension rods. I wanted to hide a very ugly view to the neighbor's house (which has now been blocked by the garage we built, also not an attractive view). The swing arm lamps have got to go. I will be painting them black and replacing the shades.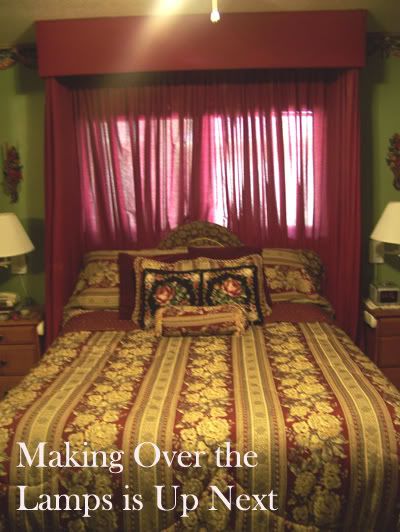 This door and the room's trim is the last part of this project. I'm thinking about painting the frames on the panels a metallic gold to match the hutch. Your thoughts?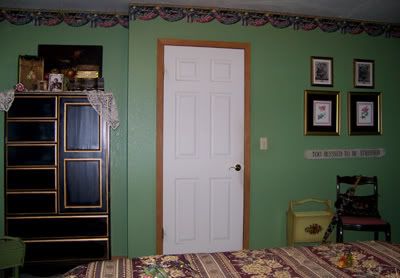 This is the door to our master bath. It looks very plain and has a bad dent in it that I want to hide with a full length, gold-framed mirror. I don't want to put out the money to replace the door because Craig plans to tear apart this bath at some point and relocate and replace the door with a pocket door. I will be going out later today to try to find a good-looking mirror that doesn't cost an arm and a leg.
That's it so far! Almost done. Just one more door, the trim and the lamps left to do!