Do you love the look of sweet little girls in old-fashioned smocked dresses? The exquisite beauty of heirloom sewing? Want to create beautiful garments for a special little princess?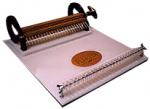 I was going to list this on Ebay, but thought I'd try selling it here first. Yes, it's all about fee avoidance. :) I have a brand new Dr. Joe's 24 Row Smocking Machine. It has only been taken out of the box one time. It sells for $225 new, but I am selling it for $175 SHIPPING INCLUDED! As a bonus you will receive an instructional video, a ton of Sew Beautiful and Creative Needle magazines, some smocking dress patterns, a Martha Pullen heirloom sewing book and a Christmas-themed ready-to-sew smocking insert. Email me at lovelace@mtaonline.net if you're interested, have questions or want to snag this before someone else does!
PS - The smocked items pictured above are to give you an idea of the kinds of things you can create. They are not actual items included in the package.